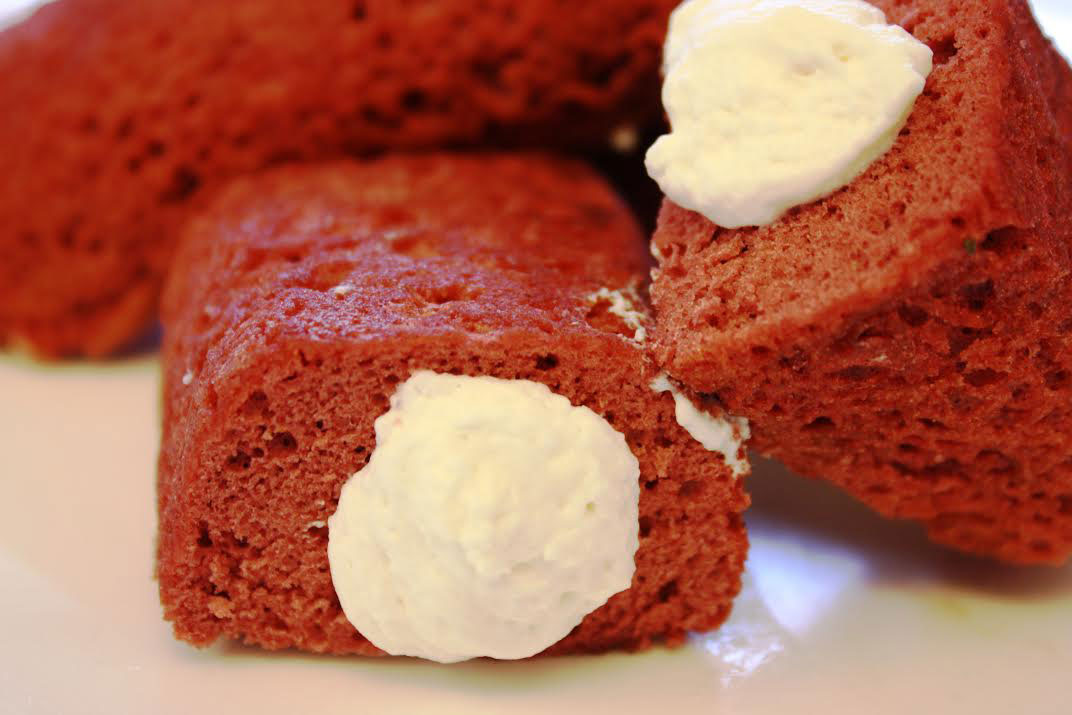 Afternoon tea takes a turn for the romantic at The Langham's ValenTea wherein the afternoon repast adds spicy dark chocolate macaroon lollipops to the mix of sandwiches, scones, and mini pastries. Across the opulent hotel hallway lies Travelle, where Chef Tim Graham is whipping up a special "Fire & Ice" menu for Valentine's Day featuring such juxtaposing delicacies as enflamed fish and chocolate molten cake served on "clouds."
Francesca's Restaurants get "hearty" with swoon-worthy specials available February 14 through February 16. Heart-shaped ravioli come stuffed with cheese and enrobed with garlic-Parmesan cream sauce and white truffle oil; heart-shaped pizzas feature a smattering of marinara, mozzarella, chile flakes, and basil; and for dessert, heart-shaped dark and white chocolate mousse is accented with crisp feuilletine, strawberries, and raspberry sauce.
Bad Wolf Coffee puts those formulaic Valentine's Day sweets boxes to utter shame with a lineup of gift boxes all its own. Each box contains chocolate raspberry cake for two, housemade marshmallows, chocolate and raspberry macarons, dark chocolate-Armagnac and milk chocolate-sea salt truffles, and chocolate canelés. Orders must be made in advance and can be picked up from the shop on February 13 or 14.
Beef heart tartare sets the pace for a memorable Valentine's Day meal at Kabocha. The Japanese brasserie progresses through six courses of contemporary Asian romance via scallop and crab motoyaki, roasted Peking glazed pheasant, strawberry-yuzu cheesecake, and more.
At Atwood Cafe, the heart meat of choice is pig, which serves as the third of four dinner courses for Valentine's Day. The rest of the menu is just as hearty, with items such as a hearts of palm salad, artichoke hearts with scallops, and smoked loganberry cake with Koval bourbon, which only uses the heart cut of the distillate to make its liquor.
Not since Lady and the Tramp has Italian food been as romantic as the planned Lucchetti dell'Amore at Cicchetti. The five-course fete draws inspiration from a year-round Italian tradition that translates to "locks of love," an homage to a romantic pastime wherein two lovers secure a padlock together to a bridge and toss the key away. At the culmination of the Valentine's Day meal at Cicchetti, diners will be treated to housemade blood orange limoncello shots served with a lock and key, so that couples can secure their love forever.
At LUXBAR, chocolate truffles take an exotic turn with the help of newly appointed executive chef Shaun Connolly. His special recipe for truffles, a complimentary finale for all dinner guests on Valentine's Day, includes bittersweet chocolate and brandy dusted with the likes of coconut-curry, strawberries, chile-chocolate, and mocha.
Beverage-wise, some of the most alluring cocktails in town can be sipped at the Hyatt Regency Chicago. At Stetsons Modern Steak + Sushi, go to first base with the French Kiss, a medley of Chambord, cranberry juice, vanilla bean paste, Prosecco, and nutmeg. American Craft Kitchen and Bar's Fire Passion is a riff on Hot Tamale candy, made with Fireball whiskey, grenadine, ginger ale, and lime juice, while BIG Bar is serving up a cocktail called Cupid's Kiss, a luscious libation comprised of Strasberi Strawberry Vodka, Godiva Light Chocolate liqueur, Godiva Dark Chocolate Liqueur, Island Oasis ice cream mix, and chocolate-covered strawberries.
Red velvet Twinkies are pretty much the dream dessert for any love-addled diner. The rosy treats serve as the dessert for South Water Kitchen's five-course Valentine's Day dinner menu, which also includes raspberry salad, lobster tortellini, cumin-dusted ahi tuna, and grilled beef tenderloin with foie gras reduction.
If none of these romantic options have you piqued, there's always the Jaded Hearts dinner taking place at EL Ideas. Perfect for singles, friends, or couples averse to the typical Valentine's Day motions, the avante garde restaurant goes against the grain with a multi-course menu inspired by broken hearts and lost love. The playlist for the evening will also eschew romantic music for tunes about breakups and meaningless sex. The Jaded Hearts dinner takes place on February 20.
The Langham
330 N. Wabash Avenue, Chicago
(312) 923-9988
Website
Francesca's Restaurants
Multiple Locations
Website
Bad Wolf Coffee
3422 N. Lincoln Avenue, Chicago
(773) 969-2346
Website
Kabocha
952 W. Lake Street, Chicago
(312) 666-6214
Website
Atwood Café
1 W. Washington Street, Chicago
(312) 368-1900
Website
Cicchetti
671 N. St. Clair Street, Chicago
(312) 642-1800
Website
LUXBAR
18 E. Bellevue Place, Chicago
(312) 642-3400
Website
Stetsons Modern Steak + Sushi
151 E. Upper Wacker Drive, Chicago
(312) 239-4491
Website
American Craft Kitchen and Bar
151 E. Upper Wacker Drive, Chicago
(312) 565-1234 x 4496
Website
BIG Bar
151 E. Upper Wacker Drive, Chicago
(312) 565-1234
Website
South Water Kitchen
225 N. Wabash Avenue, Chicago
(312) 236-9300
Website
EL Ideas
2419 W. 14th Street, Chicago
(312) 226-8144
Website