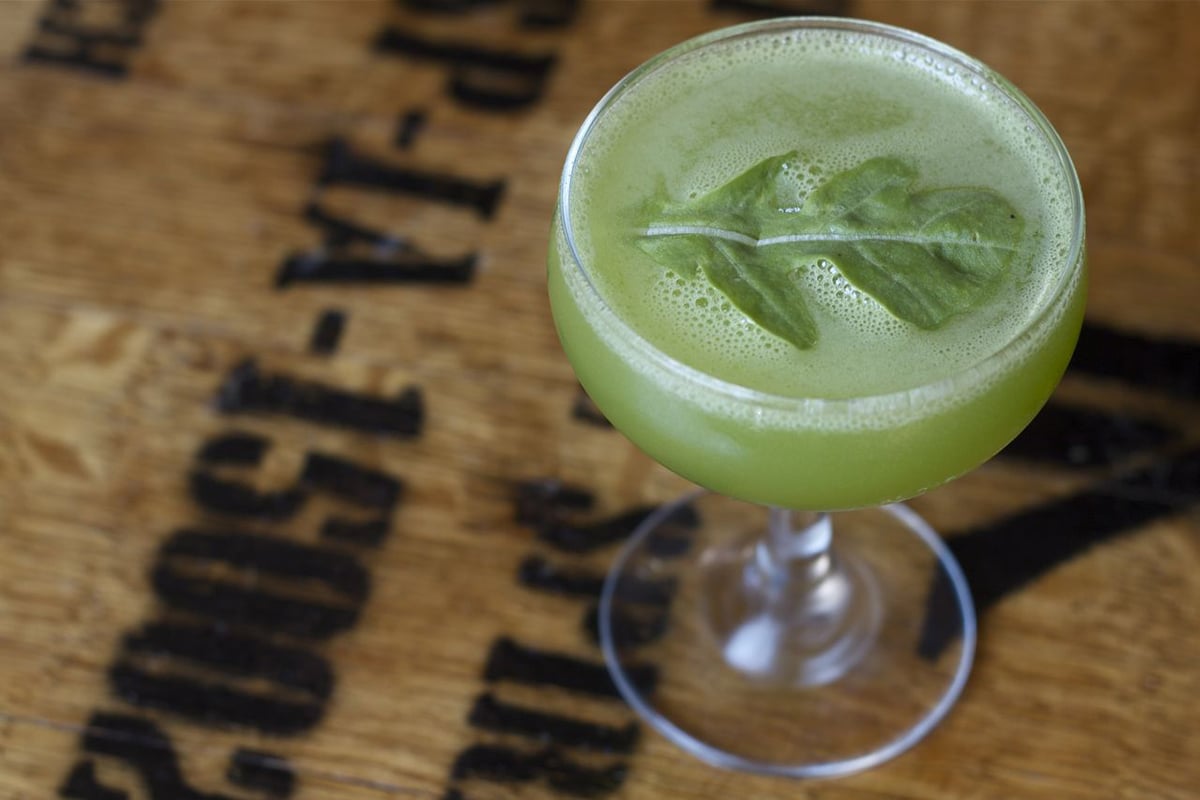 Bangers & Lace
The changing of the seasons means an evolution in beverage preferences, and not just for pumpkin spice lattes. As cocktail cravings shift from patio-friendly quaffs such as mojitos and sangria to fireside fare, beverage menus change to incorporate warmer, spicier, and heartier ingredients. Two bartenders leading the charge on seasonal cocktails in Chicago are Michael Dziedzic at Karyn's on Green and Nick Ostapczuk at Bangers & Lace. Each one brings his own intrinsic style to the glass, presenting a bold new batch of boozy beverages for Chicagoans to savor.
Working in bars for the past decade, Dziedzic began chiseling his bartender skills at the now-defunct Shady Lady alongside booze wizard Dan Marunowski. He since moved on to become the beverage director at the West Loop's vegan hot spot Karyn's on Green, while multi-tasking as cocktail coordinator at Jerry's Sandwich Shop in Andersonville. Dziedzic is currently warming up his cocktails at Karyn's for cold weather, not by heating them but by infusing them with cozy flavors. Inspired by the holidays and the snug sensations of sweater weather, Dziedzic strives for comforting, hearty ingredients such as apples, pears, cardamom, cinnamon, whiskey, and walnut bitters. One of his current favorites is his Pickled Jenny, a medley of pickled pears, cardamom, coriander, cinnamon sticks, cloves, and ginger splashed with Ransom Old Tom Gin and ginger beer. Apples take the stage in The Core of the Manhattan, made with muddled apples, Whippersnapper whiskey, Velvet Falernum, black walnut bitters, and a French apple and pear cidre. Tequila isn't all margaritas and sunny porches, as proven by Dziedzic's autumnal Baya Rosa, featuring tequila, vanilla-infused malort, and homemade pink peppercorn and cracked black pepper syrup.
Over at Bangers & Lace, there's a new face behind the bar and a new cocktail list to match. Although the Wicker Park sausage-centric bar is mostly renowned for its beer program, Ostapczuk is here to prove that Bangers & Lace pays equal mind to crafty mixed drinks as well. The man's got cocktail cred too, an alum of The Drawing Room, where he learned tricks of the trade under cocktail wunderkind Charles Joly, and Farmhouse, where he kick started the gin program. Now he's shaking and stirring things up at Bangers & Lace, with hearty drinks fit for fall sipping. The North by Southeast blends Old Forester Signature bourbon with walnut liqueur, ginger syrup, and apple nectar; gin, arugula juice, and lime get whipped together to form The Spruce Goose; and cranberry shrub livens up the Stachiw Shrub, along with Death's Door vodka and lime. There's even a barrel-aged version of a dark and stormy on the menu, instilling rich, robust body into the mix of Mount Gay Black Barrel rum, Yellow Chartreuse, Cherry Heering, lime, and ginger beer.
Karyn's on Green
130 S. Green Street, Chicago
(312) 226-6155
Website
Bangers & Lace
1670 W. Division Street, Chicago
(773) 252-6499
Website