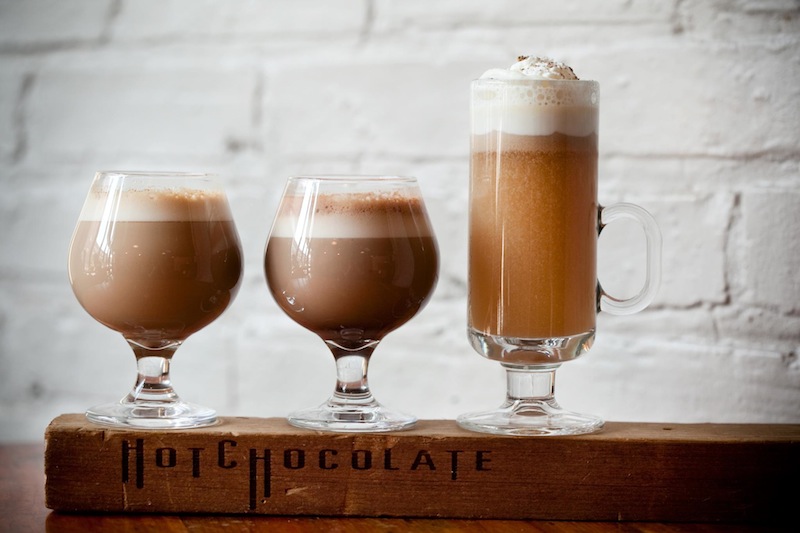 If you have children in school, this is vacation week, which means you'll need some activities to keep them busy. If you're working in an office, odds are things are less busy than usual, and you can duck out for a treat. And what's a better winter treat than hot chocolate? Here are some new ones (and old standbys) on the scene.
Heading to Mindy Segal's newly revamped dessert emporium Mindy's Hot Chocolate is a no-brainer. The Bucktown restaurant offers a half dozen types of cocoa. You can't go wrong with the black and tan, made with 1/3 hot fudge and 2/3 medium hot chocolate.
At Xoco, Rick Bayless' torta and caldo spot, get a cup paired with the restaurant's cinnamon-encrusted churros. The Aztec mixes freshly ground chocolate with water, chile, and allspice, but the champurrado is a thick, rich concoction thickened with masa that's practically a meal in itself. Big Star also serves a version of a champurrado that you can ask the bartender to spike with a shot of whiskey.
Combine two winter classics by stopping for a cup of hot chocolate at the Park Café at Millennium Park. The café offers a traditional cup that's ideal for warming up cold hands after twirling on the ice skating rink.
Bar Toma, Tony Mantuano's Italian restaurant on the Magnificent Mile, is open all day long, which means it's possible to drink the thick, decadent hot chocolate for breakfast, lunch, dinner, or a snack. It's made with dark chocolate and cut with cream and sugar.
Leave the children at home for this one: and have a date night at Allium, in the Four Seasons. The restaurant offers new chocolates, like a Mexican hot chocolate served with a shot of tequila and churros and a version spiked with Grand Marnier and garnished with spiced marshmallows.
Mindy's Hot Chocolate
1747 North Damen Avenue, Chicago
(773) 489-1747
Website
Xoco
449 North Clark Street, Chicago
(312) 334-3688
Website
Big Star
1531 North Damen Avenue, Chicago
(773) 235-4039
Website
Park Café
11 North Michigan Avenue, Chicago
(312) 521-7275
Website
Bar Toma
110 East Pearson Street, Chicago
(312) 266-3110
Website
Allium
120 East Delaware Place, Chicago
(312) 799-4900
Website