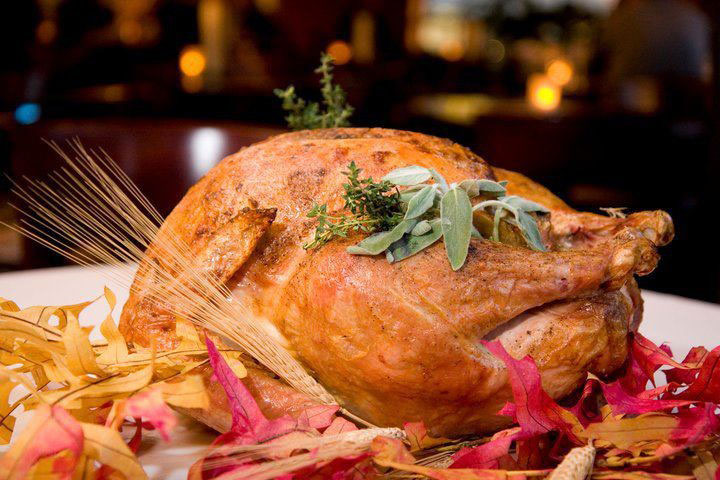 Thanksgiving isn't Thanksgiving without a feast to indulge in. But if you're not in the mood to whip up a giant meal at home this year, Chicago restaurants are here to rescue you.
Lockwood, in the Palmer House Hilton, is serving a seasonal menu that includes free-range Wisconsin chicken with button mushroom and bacon lardons and Nichols Farm butternut squash with candied pecans and cinnamon cream. The dinner is $65 for adults, $55 for seniors, and $30 for children.
Brasserie by LM is offering a French-inspired $32 three-course menu, which includes roasted butternut squash and apple soup, confit turkey legs, and pumpkin pie. Reservations are required and can be made by calling (312)-431-1788.
Chicago Cut Steakhouse has a prix fixe menu that's $50 for adults and $25 for kids, and includes maple glazed roasted turkey, cranberry sauce, sweet potatoes, and pecan pie with ice cream. For reservations, call (312) 329-1800.
Celebrate BBQ-style at CHICAGO q, where you can dine in from 11 am to 8 pm, or carry out dishes for up to 14 people. The menu includes free-range smoked turkey with gravy and cranberry orange compote, haricots verts with pork belly and caramelized onions, and bourbon bread pudding.
Shaw's Crab House in Schaumburg is hosting a Thanksgiving buffet for $48 for adults and $12.99 for kids, with lots of raw seafood, salads, turkey, prime rib, vegetables, and a dessert buffet. Add on seasonal crab dishes for $8 extra. A donation from each dinner will be made to The Leukemia & Lymphoma Society.
Scott Walton focuses on seasonal ingredients at Markethouse, and his Thanksgiving menu includes dishes like roasted pear Anjou salad, lavender biscuits with black mountain huckleberry jam, and baked heirloom apple gratin with squash butter and granola. The dinner is $32 for adults and $16 for kids 12 and under.
Benny's Chop House is offering a traditional dinner, with organic turkey, chestnut stuffing, and apple sage gravy, among other classic dishes. The dinner is $34.99 for adults and $17.99 for kids.
Keep Thanksgiving going a little longer by heading to Butcher & the Burger for a turkey burger with cranberry mustard, maple-sage mayonnaise, smoked bacon and Swiss cheese for $10.50 Friday-Sunday. They'll also be offering maple-vanilla custard.
Lockwood
17 East Monroe Street
Chicago, IL 60603
(312) 917-3404
Website

Brasserie by LM
800 South Michigan Avenue
Chicago, IL 60605
(312) 431-1788
Website

Chicago Cut Steakhouse
300 North La Salle Drive
Chicago, IL 60654
(312) 329-1800
Website

Chicago q
1160 North Dearborn Street
Chicago, IL 60610
(312) 642-1160
Website

Shaw's Crab House
1900 East Higgins Road
Schaumburg, IL 60173
(847) 517-2722
Website

Markethouse
611 North Fairbanks Court
Chicago, IL 60611
(312) 224-2200
Website

Benny's Chop House
444 North Wabash Avenue
Chicago, IL 60611
(312) 626-2444
Website

Butcher & The Burger
1021 West Armitage Avenue
Chicago, IL 60614
(773) 697-3735
Website