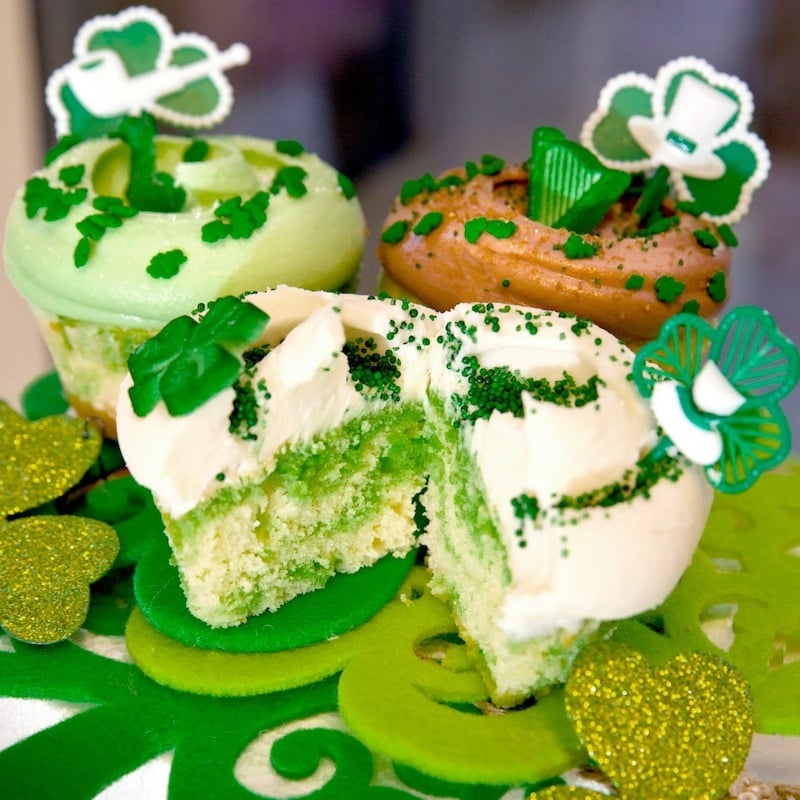 Sunday is St. Patrick's Day, which means you have a whole weekend of excuses to dig into corned beef, Irish whiskey...and green velvet cupcakes. Here are some top picks for where to nosh and sip this weekend.
If Irish soda bread isn't sweet enough for you, head to Sprinkles, where you can get a green velvet cupcake (it tastes just like a red velvet cake, but is tinted green) topped with cream cheese frosting, or an Irish chocolate cupcake with a dark chocolate cake and Bailey's cream cheese frosting. Magnolia Bakery is also offering treats like pistachio cupcakes, cupcakes decorated with shamrocks, and mint-green wafer whoopee cookies.
Try corned beef in a new form at BEL 50. The corned beef hash waffle features diced corned beef, onion, cabbage, and a fried egg on a green parsley- and scallion-infused waffle.
The Gage will be hosting live Irish music all day Saturday and Sunday, plus Irish dishes like lamb shepherd's pie, corned beef sandwiches with Guinness-soaked Swiss cheese, and Irish farmhouse soup.
Start Sunday with a traditional Irish breakfast at Allium featuring a fried egg, bangers, rashers, black pudding, mushrooms, tomatoes, and brown bread.
Frasca is bringing back its annual Guinness pizza, which is made with a Guinness crust and topped with béchamel sauce, roasted onions, fingerling potatoes, bacon, cheese, and an egg.
Wicker Park Italian joint Ripasso goes Irish with a month-long Irish pop-up called The Red-Headed Step Child. The menu includes shepherd's pie with Guinness-braised short ribs and corned beef sliders.
Sprinkles
50 East Walton Street, Chicago
(312) 573-1600
Website
Magnolia Bakery
108 North State Street #128, Chicago
(312) 346-7777
Website
BEL 50
738 North Clark Street, Chicago
(312) 496-3948
Website
The Gage
24 South Michigan Avenue, Chicago
(312) 372-4243
Website
Allium
120 East Delaware Place, Chicago
(312) 799-4900
Website
Frasca
3358 North Paulina Street, Chicago
(773) 248-5222
Website
Ripasso
1619 North Damen Avenue
Chicago, IL 60622
(773) 342-8799
Website