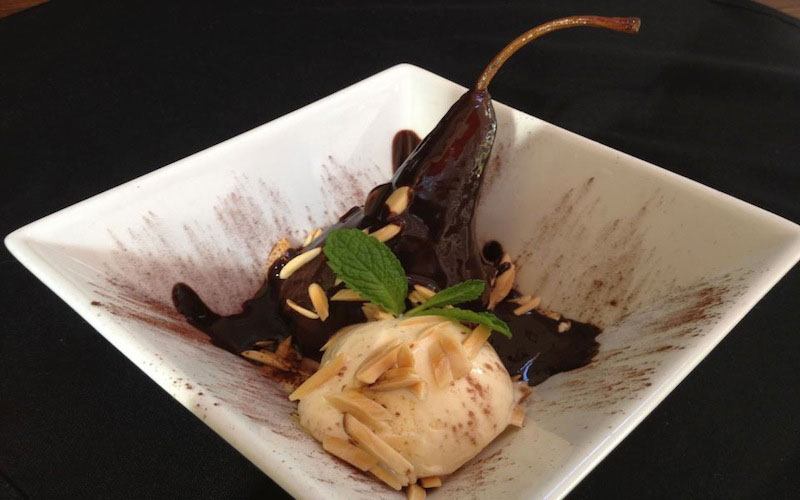 Rosh Hashanah is all about beckoning the Jewish New Year on a sweet note, and Bistronimic and Osteria Via Stato are a couple restaurants rising to the occasion this year with special menus for the holiday.
At Bistronomic, chef/owner Martial Noguier sources fresh seasonal ingredients to comprise his Rosh Hashanah degustation, available for dinner on Wednesday, September 4, and Thursday, September 5. As expected of this modern bistro, Noguier's menu draws inspiration from Jewish customs, but takes them in a contemporary direction, such as whitefish escabeche with radishes, fresh grapes, onion and carrot salad; house-cured duck confit with Chioggia beets, caramelized walnuts, and honey reduction; prime beef short ribs with fresh horderadish sauce, broccoli, and rapini; and pear belle Helene with vanilla ice cream, pomegranate, and bittersweet chocolate sauce. Bistronomic's regular a la carte menu will also be available during Rosh Hashanah.
It's raining challah and gefilte fish over at Osteria Via Stato, where a special multi-course dinner menu is on deck September 4 through September 5. Skip the family drama at home and head to this Italian restaurant for an array of antipasti, entrees sides, and desserts, all inspired by the Jewish New Year. Start off with table favors such as sliced challah bread and chopped liver, then proceed to housemade gefilte fish with red beet horseradish, matzo ball soup, and entrees such as slow-braised beef short ribs, roasted chicken, and fennel-crusted flounder. For dessert, indulge in a double chocolate tart or an apple crostada with caramel sauce.
Bistronomic
840 N Wabash Avenue, Chicago
(312) 944-8400
Website
Osteria Via Stato
620 N State Street, Chicago
(312) 642-8450
Website