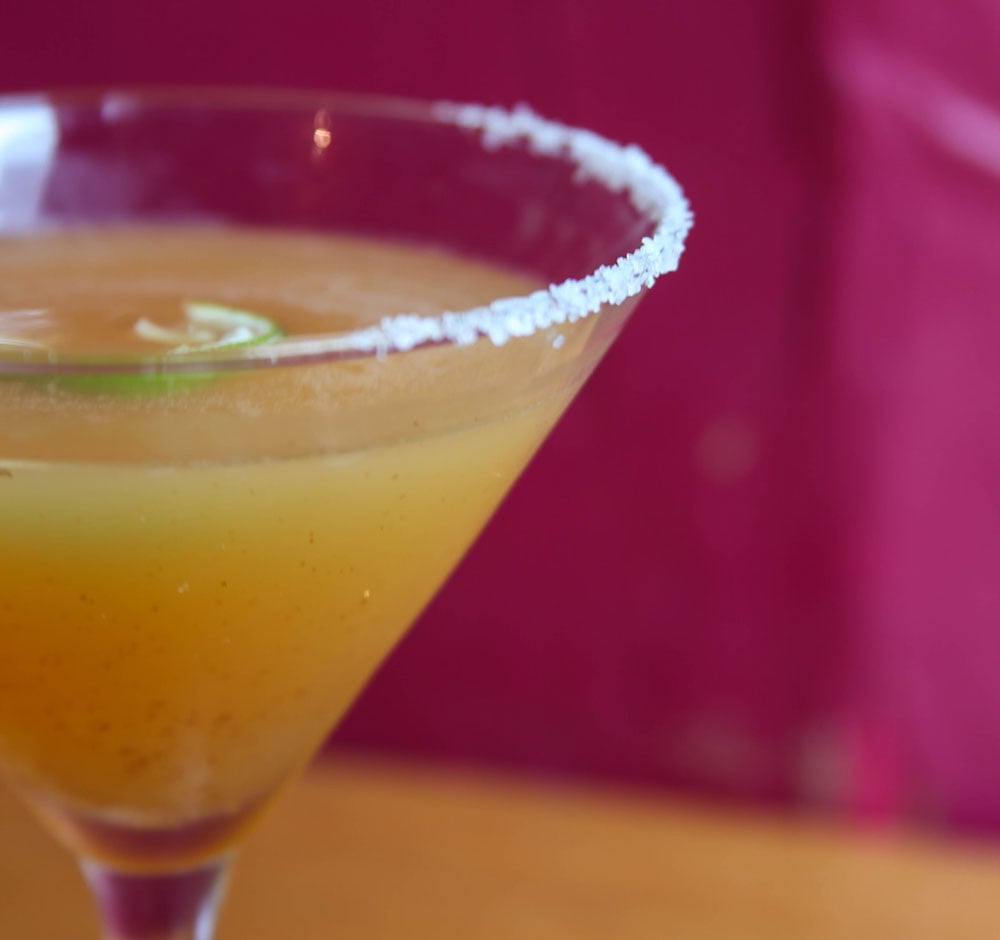 When it comes to cider, it's not all cinnamon and apple juice. Sure, a warm cup of classic cider is comforting, but there's a bevy of cider creations in Chicago this season that think outside the mug, proving that cider lends itself well to a variety of applications. And don't forget to eat your cider in the form of doughnuts, dumplings, sorbet, and more. Cheers to cider season!
One of the most neoteric cider examples in Chicago right now is the apple cider margarita at de cero, a drink combining two beverages that seemingly never intersect. Taking advantage of the season's harvest, the mod Mexican restaurant sources apple cider from Grandpa's Cider Mill in Coloma, Michigan, shaking it all up with blue agave tequila and house-squeezed lime sour. It's garnished with a Granny Smith apple slice and of course, a salted rim. Start your morning on a boozy note at 2 Sparrows with their new whiskey-infused cider. The brunch bastion is now pouring warm spiced and spiked cider emboldened with cinnamon, nutmeg, cayenne, clove, ginger, and Journeyman Distillery Ravensoon Rye Whiskey. Apples and oranges find a common ground at Fountainhead in the form of Clyde May's Hot Cider, a soothing nectar made with fruits, star anise, clove, cinnamon, nutmeg, honey, and Clyde May's Alabama Whiskey.
Once you've had your fill of drinkable cider, you'll likely be hungry for some cider bites. Start with the pork belly salad at HotChocolate, made with shaved Honey Crisp apples, spaghetti squash, bleu cheese, pecans, and cider vinaigrette, then save room for the new "taffy apple" dessert, featuring Granny Smith apple frozen nougat, cider-caramelized apples, corn nut poppycock, and cider consommé. Make sure you're not too sugared out, because there's apple cider sorbet to be had at Black Dog Gelato and apple dumplings with cider caramel at EPIC. The Gage even offers a version of classic cider doughnuts, studded with spiced pecans and maple ice cream.
de cero
814 W. Randolph Street, Chicago
(312) 455-8114
Website
2 Sparrows
553 W. Diversey Parkway, Chicago
(773) 234-2320
Website
Fountainhead
1970 W. Montrose Avenue, Chicago
(773) 697-8204
Website
HotChocolate
1747 N. Damen Avenue, Chicago
(773) 489-1747
Website
Black Dog Gelato
859 N. Damen Avenue, Chicago
1955 W Belmont Avenue, Chicago
(773) 235-3116
Website
EPIC
112 W. Hubbard Street, Chicago
(312) 222-4940
Website
The Gage
24 S. Michigan Avenue, Chicago
(312) 372-4243
Website