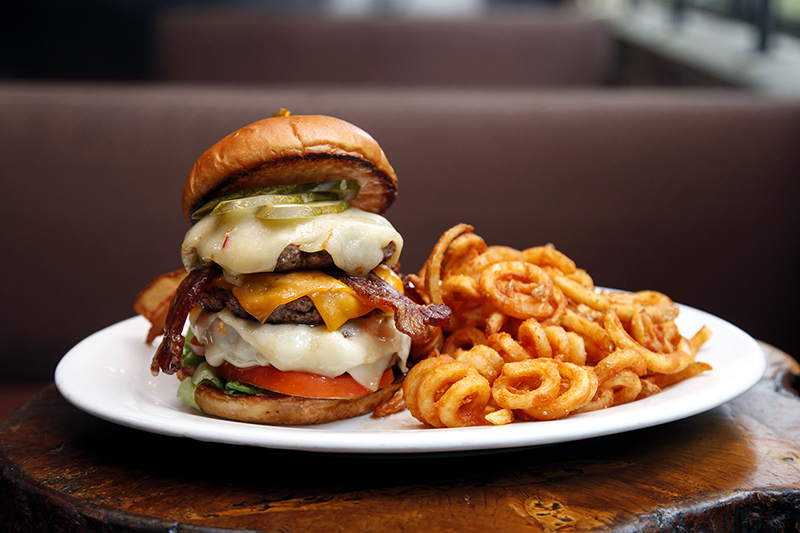 September 18 is National Cheeseburger Day, a beefy Christmas that merits celebration at some of Chicago's top burger destinations. Eschew the all-too-easy fast-food options and make your way to DMK Burger Bar, Clark Street Dog and Bar, or one of the Rockit bars, all of which are featuring special cheesy burgers for the occasion (or for the month).
The special burger of the month at DMK Burger Bar is the new #15, which sounds like it could be in reference to the amount of weight you'll put on just by thinking about this burger. This huevos rancheros-inspired burger packs enough comfort and heat atop a beef patty to keep you warm for the duration of fall, featuring Sonoma Jack cheese, tortilla chips, housemade salsa, and a fried egg. The burger is available for the rest of September, but it's an especially apt meal for National Cheeseburger Day.
One of the best burger bargains in town can be found at Clark Street Dog and Bar, and since the only thing that can make Cheeseburger Day better is a bargain, it makes for a reputable destination. Made from fresh, never frozen ingredients cooked to order, cheeseburgers at Clark Street Dog are going at a special discount rate for the holiday, along with fries. While there, wash it down with Goose Island Oktoberfest, recently added to the bar's selection of Goose Island beers on tap.
Why celebrate Cheeseburger Day with one beef patty when you can do three? That's the mantra at Rockit Burger Bar and Rockit Bar & Grill, both of which are raising the ante with The Triple burger for the holiday. The hulking burger features three three-ounce Black Angus patties topped with Swiss, cheddar, and habanero Jack cheeses, applewood-smoked bacon, shredded lettuce, tomato, pickles, and mayonnaise on a toasted bun. The burgers come with seasoned curly fries, in case you were still hungry.
DMK Burger Bar
2954 N. Sheffield Avenue, Chicago
(773) 360-8686
Website
Clark Street Dog and Bar
3040 N. Clark Street, Chicago
(773) 281-6690
Website
Rockit Burger Bar
3700 N. Clark Street, Chicago
(773) 645-4400
Website
Rockit Bar & Grill
22 W. Hubbard Street, Chicago
(312) 645-6000
Website