Check out host finalist Sarah Levy. Watch an out-take from her studio audition: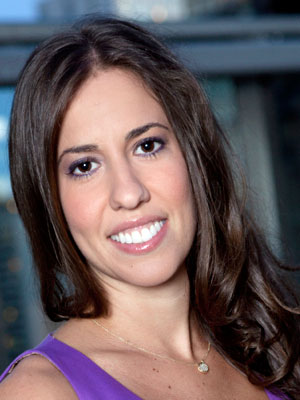 Sarah Levy
Owner of S. Levy Foods/ Magazine Editor
Why are you the best host for Check, Please!?
My entrepreneurial pastry history, continuous passion for great food and wine, friendly nature, and family heritage in Chicago restaurants all give me credibility and make me the absolute best candidate. I eat out on average eight times per week, and have lived in Chicago my whole life, so I am in the loop on Chicago's restaurants and I love experiencing new places. I grew up in the restaurant business (my dad co-founded Levy Restaurants) and I will always be in the food industry. I am approachable and comfortable on camera, and having been in the bakery business for nine years, I can keep a conversation going with just about anyone! As the dining editor for Today's Chicago Woman magazine and food blogger, I am constantly pushing myself to seek out new Chicago restaurants. I have appeared on several local and national television programs, so I know from experience that I love working on camera. I have always loved food and, in particular, eating out. And I have always been interested in the people eating the food, so as a Sociology major at Northwestern, I constantly tied food to my studies and wrote my senior thesis on "kitchen culture." I am upbeat and engaging and sure to please viewers, as well as highlight new and exciting culinary experiences around the city. On top of all that, I am fun, reliable, and easy to work with!