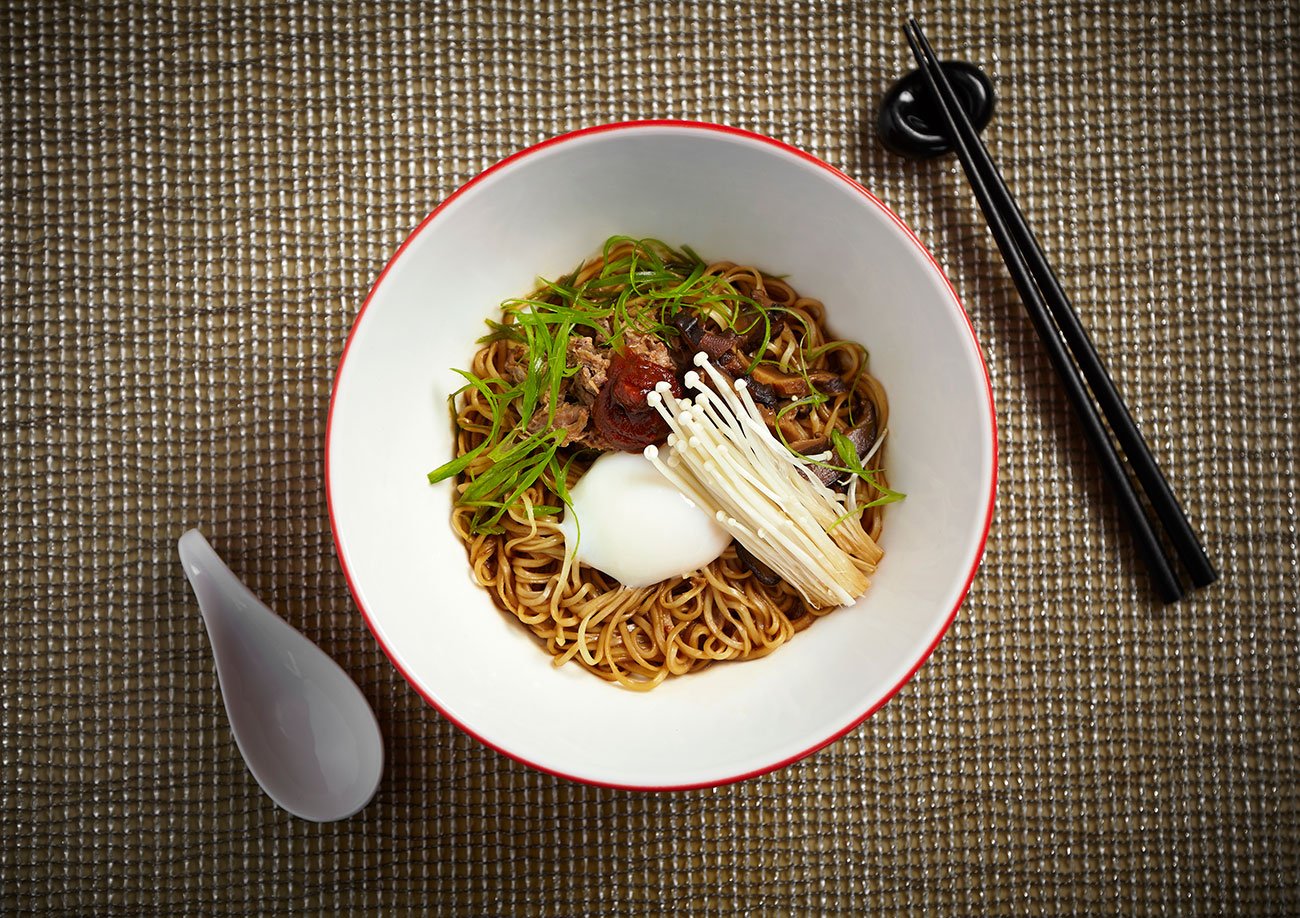 Judging by the prominence of ramen menu news in Chicago lately, it looks as if upscale "broke college student dining" is en vogue. It's hard to fling a chopstick without hitting a haute bowl of ramen these days, as more ramen restaurants open up and ramen-focused dishes hit menus. From slurpable bar food to the latest ramen spots in town, here's the latest ramen roundup.
Bar food at Kabocha is miles away from your standard bar fare. Chef Shin Thompson is warming things up for fall with a new ramen promo for the Japanese brasserie's chic bar menu. For the chef, ramen is a nostalgic endeavor, as the chef used to travel to Japan with his uncle in his younger days to eat their way through the best ramen shops in the country. Honoring those memories, Thompson concocted a spicy miso ramen recipe with scratch-made noodles, pulled pork, black garlic, apple, chile paste, pickled mushrooms, and a sous vide farm egg. The ramen is available exclusively at the bar, juxtaposed with a cold Kirin Ichiban beer.
If you crave ramen noodles you can eat with your hands, then look no further than Buzz, North Center's latest burger entrant. This gourmet, offbeat burger spot peddles a version of the fiendishly popular ramen burger that originated in New York City and quickly swept the country. By shaping the noodles into patties and crisping them up to form a cohesive "bun," Buzz is able to sandwich a Kobe beef patty with aged cheddar, fried farm egg, sun-dried tomatoes, arugula, and Sriracha.
Ramen is a large part of the concept at Wrigleyville newcomer Four Belly. Rooted in Asian street food traditions, the adventurous eatery traffics in outre eats such as fried caterpillar and fried frogs' legs, but those in need of less zany comfort food should dive right in with some of Four Belly's ramen. Traditional ramen preparations include the silky tonkotsu ramen laden with chashu pork loin, sesame, kikurage mushroom, bamboo, pickled ginger, sweet corn, egg, and fish cake; shoyu ramen with soy sauce, spinach, bamboo, cabbage, egg, and inari; and spicy kaya miso ramen with spicy soybean paste, pork, cabbage, spinach, scallions, egg, and fish cake.
Still to come in the world of ramen is one of the latest ventures for tireless restaurateur Brendan Sodikoff. Opening soon in the West Loop, High Five Ramen takes its name from one of Sodikoff's favorite bars in Tokyo. Also derived from Tokyo, inspiration for the petite size of the space and the menu, with capacity for barely 10 seats and only a couple dishes. High Five premieres shortly after Sodikoff opens Green Street Meats, a barbecue spot located right next door.
Kabocha
952 W. Lake Street, Chicago
(312) 666-6214
Website
Buzz
1935 W. Irving Park Road, Chicago
(773) 880-9810
Website
Four Belly
3227 N. Clark Street, Chicago
(773) 661-6182
Website
High Five Ramen
112 N. Green Street, Chicago