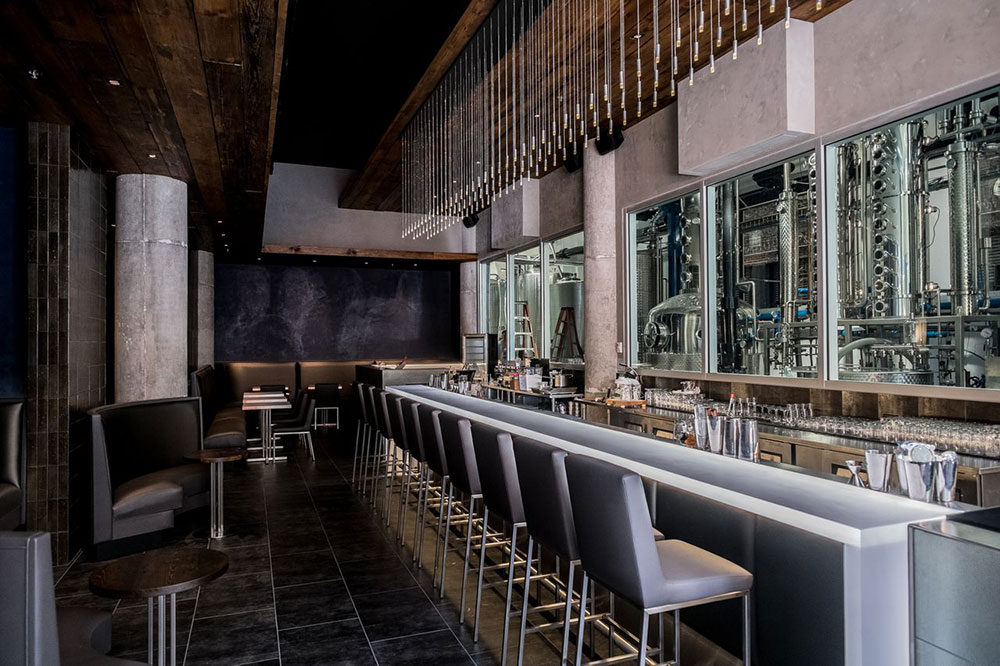 2013 will go down as the year of the Chicago distillery. The city has had standby local distilleries for years, from Koval Distillery to Leatherbee Distillers, but this year we've seen a mighty spate of new distilleries hit the scene. CH Distillery recently opened, with Rhine Hall and Chicago Distilling Company on the imminent horizon.
CH Distillery is the masterwork of distiller Tremaine Atkinson and business partner Mark Lucas. Inspired to take the farm-to-table ethos in a grain-to-bottle direction, the West Loop distillery strives to show customers the science of alcohol, with distillation stills visible behind glass windows and tours offered on Saturday evenings. After learning about liquor, guests can mosey up to the bar or a high-top table and sample some of the spirits themselves. CH Distillery exclusively features spirits they make themselves, including gin, vodka, rum, and whiskey. While the latter two are solely used behind the bar, gin and vodka will eventually be bottled and sold to liquor stores in Chicago and Illinois.
Brandy is the tipple of choice at Rhine Hall, a distillery opening next month from brandy aficionado Jenny Solberg. Her father Charlie got into brandy distilling while living in Europe in his younger years, and he served as inspiration for Solberg to make the move to Chicago from San Francisco to get into the brandy business. Using apples from Michigan, Rhine Hall will offer tours of the brandy facility, and feature a tasting room and a bar with brandy cocktails.
Coming soon to Logan Square is Chicago Distilling Company, a massive space and project conceptualized by Jay DiPrizio. The facility will contain a 1,700 square-foot tasting room showcasing their vodka and different types of whiskey. Guests at the bar can sip on small tastes, cocktails, or infusions.
CH Distillery
564 W. Randolph Street, Chicago
(312) 707-8780
Website
Rhine Hall
Location TBD, Chicago
Website
Chicago Distilling Company
2359 N. Milwaukee Avenue, Chicago
Website