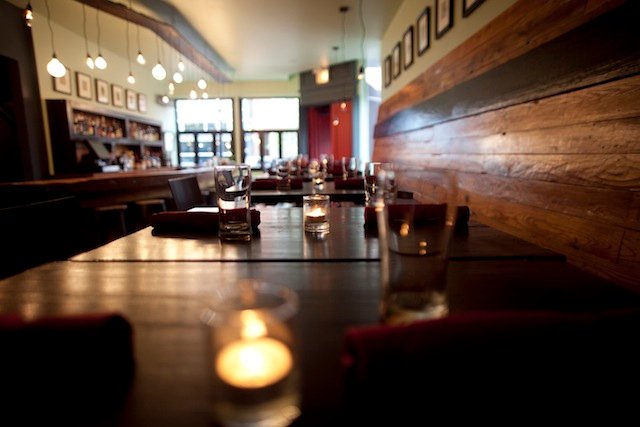 Red Door
Leave your Sunday supper leftovers till tomorrow, because it's going to be a tasty night on the town tonight. Each event benefits a different organization, so you can feel good about digging into that bowl of soup, chili, or plate of pork.
Recurring pintxo party Amigos de Pintxo at Tavernita hosts Charleston, SC chef Sean Brock (from Husk and McCrady's) for a night of Southern-inspired tapas. Head in for hand-carved, two-year Ossabaw country ham, fried pickled green tomatoes with pimento cheese, fried pig ears with chow chow, Carolina crab, and Husk BBQ pork ribs. The event runs from 8-10 pm and is all-you-can-eat. Proceeds benefit Pilot Light, which work with schools to improve nutrition.
Warm up with a chili cook-off at Red Door to support Slagel Family Farms' Chicken Freedom Project, which aims to buy and concert a commercial, caged chicken and egg facility into a cage-free farm. Chefs whipping up chili include Mark Steuer of Carriage House, Matt Troost of Three Aces, John Manion of La Sirena Clandestina, Art and Chelsea Jackson of Pleasant House Bakery, and others. The event starts at 6 pm.
Embeya debuts its Asian Soup Guest Chef Series tonight with soup from Nightwood's Jason Vincent. Vincent's soup is a walleye broth with fish dumpling, crispy carrot, foie gras jelly, and coriander. Proceeds benefit Green City Market.
Tavernita
151 West Erie Street
Chicago, IL 60654
(312) 274-1111
Website
Red Door
2118 North Damen Avenue
Chicago, IL 60647
(773) 697-7221
Website
Embeya
564 West Randolph Street
Chicago, IL 60661
(312) 612-5640
Website