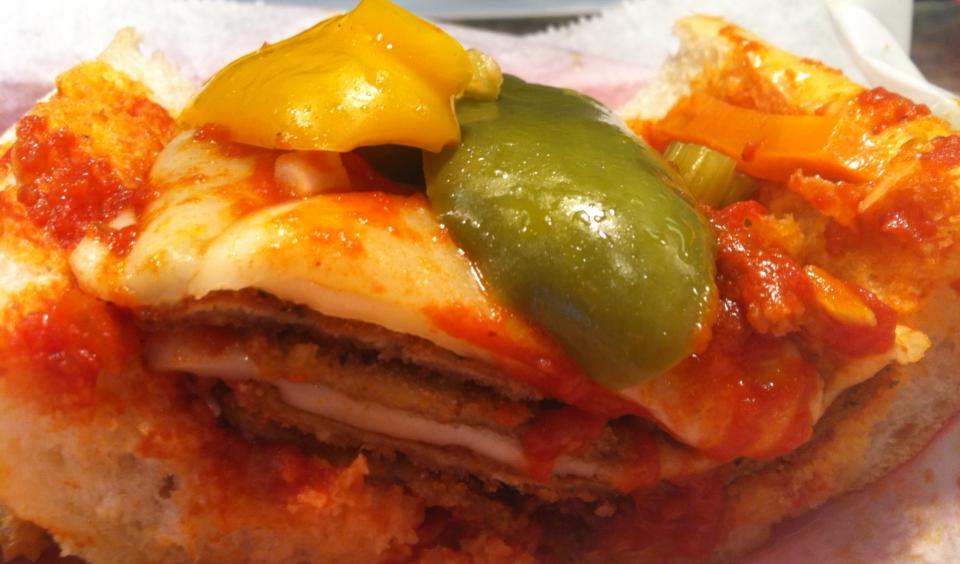 It's Lent, I'm Italian, and I'm from Bridgeport. Like so many other devoted lapsed Catholics, some vestigial Catholic guilt requires me to refrain from eating meat on Fridays. Truth be told, with the selection of non-meat products that surrounds me, it's not really much of a sacrifice. The South Side (and Bridgeport in particular) is teeming with options.
My first choice is always Freddie's on 31st Street. I could write a 39-page screed on their Italian beef on garlic bread with provolone or their breaded steak smothered in red sauce and hot giardinera. However, such writings will ultimately end in a bloated waistline. Instead, I will write of what is undoubtedly the best eggplant parmigiana sandwich I've ever had. Thinly sliced, smothered in mozzarella, and coated with an elegantly seasoned breading and delicate tomato sauce, this sandwich is everything a meat-filled sandwich should be. Fried, salty, and delicious – except, of course, there's no meat. They also do a mean pepper and egg, as well as a pretty good tuna salad. But if you want deep fried goodness, the eggplant is the way to go.
Just down the street about three blocks west you'll find Pleasant House Bakery. They too are best known for their meat-filled products. However, they also are celebrated for their award-winning fish and chips. Flaky local white fish with a crispy, lightly done coating, and some of the most perfectly seasoned "chips" I've ever had – all complemented with homemade tartar sauce. In fact, they have a great meatless Kale and Mushroom Pie available everyday as well. And yes, here too, I can go on about their chicken balti pie with homemade chutney; or the steak and ale pie, or their bangers and mash. But, alas, I am sworn to discuss my Friday meals only.
Now that you've finished your eggplant and your fish and chips, it's time to take a brief half block trip south on Morgan Street. Just about 200 feet away from Pleasant House is Zaytune Mediterranean Grill. Yes, they too have phenomenal meat dishes like steak and chicken shawarma. But their menu also includes some vegetarian Middle Eastern favorites that are scarce on the South Side – tabouli, falafel, baba ghanoush, hummus – all served with their handmade flatbread. To be perfectly honest, the flatbreads alone are reason enough to visit again and again.
With all of these meatless delicacies within walking distance, it's not all that difficult for this meat-loving South Side Catholic to abstain from meat every now and again.
Freddie's
701 West 31st Street, Chicago
(312) 808-0147
Website
Pleasant House Bakery
964 West 31st Street, Chicago
(773) 523-PIES
Website
Zaytune Mediterranean Grill
3129 S Morgan, Chicago
(773) 254-6300
Website