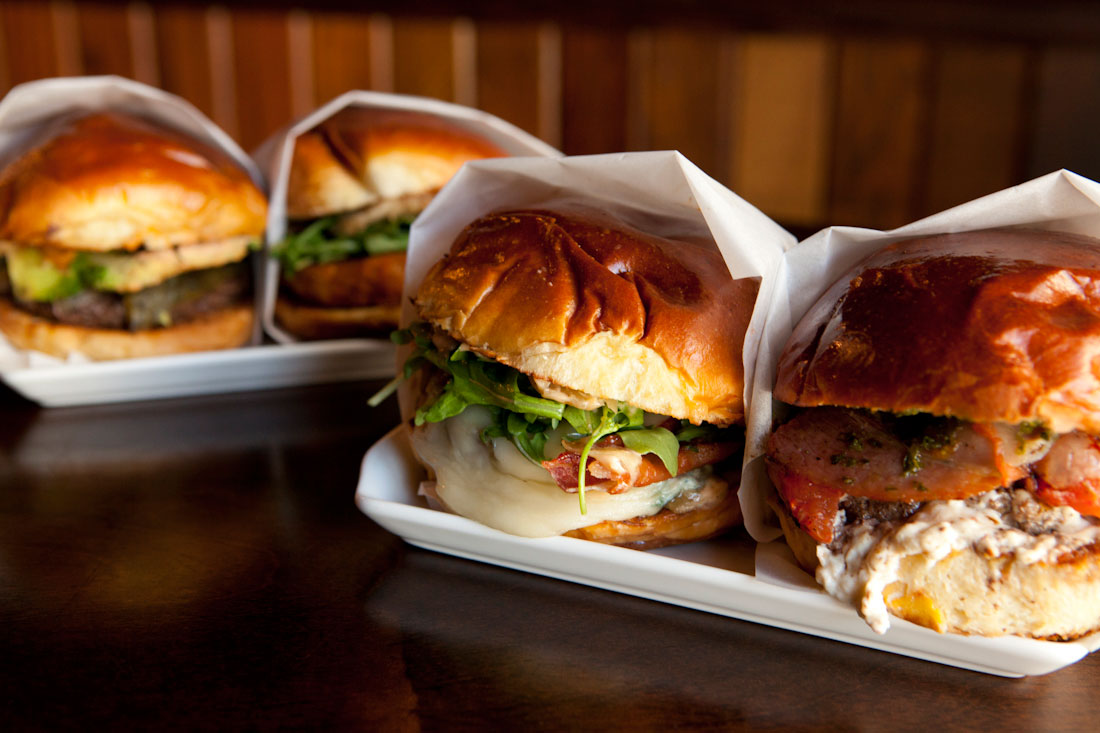 Before you get all turkey'd out from your Thanksgiving feasts, it's important to note that Chicago has a surprisingly superb turkey burger scene. Sure, turkey burgers are often ballyhooed as the ne'er-do-well, bland cousin to the attention-grabbing beef burger, but in fact when done diligently, turkey burgers have their deserved place in the pantheon of burger cravings. Here are some spots that take the turkey burger prize in Chicago.
The vibe at Eleven City Diner may be a throwback, but their approach to turkey burger cookery is anything but dated. One of the best turkey burgers in Chicago can be had at this nostalgic comfort food wonderland. You may not know it from a place best known for piled-high corned beef and gut-busting phosphates, but the turkey burger is a genuine sleeper hit. Served on a warm, pillow-soft bun, the burger is fresh, tender, and succulent in a way that most burgers only dream about. It's pretty bare-bones and simplistic, but the quality of the freshly ground poultry, interspersed with notes of sage and rosemary and slapped with a bit of Swiss cheese, speaks for itself.
One thing to be thankful for is Grange Hall Burger Bar's reputable turkey burger, aptly dubbed the Thankful burger. You'll see why as you sink your teeth into the sage- and onion-flecked turkey patty, Muenster cheese, arugula, and cranberry aïoli. What makes Grange Hall's turkey burger so delicious is in its sourcing. The restaurant prides itself on sourcing ingredients from local farms and making as much in-house as possible, resulting in a burger that is as farm-to-patty as they come.
The best example of a quick service turkey burger is the one being served at Epic Burger. True to its lofty moniker, this thing is indeed epic. The formula is straightforward and unadulterated, featuring lean ground turkey formed into relatively loose, thin patties seasoned with sea salt and black pepper. They're slapped on the griddle and cooked gingerly so as to develop crisp, slightly fatty edges while the center remains moist and supple. It's served on your choice of bun, although whole-wheat best compliments the turkey meat. Add on your pick of cheese, onions, lettuce, tomato, and all that good stuff, plus bacon and an egg if you're feeling like not being so healthy after all.
Some prefer turkey burgers topped with cheddar cheese, others may like Burrata. For the create-your-own burger junkie, 25 Degrees is Mecca. The crafty burger haven gives burgers the upscale treatment, offering a more chef-minded approach to burger creations and customizations. Beef often takes the spotlight, but 25 Degrees' turkey burgers are equally exceptional. Featured as one of the craft-your-own burger options, the turkey patty can be topped with any number of extras, sauces, and cheeses. Options are limitless, from caramelized onions, prosciutto, and hatch green chiles to sauces such as lemon-dill, tarragon rémoulade, and horseradish cream, and cheeses including Burrata, smoked mozzarella, Grand Cru Gruyere Surchoix, butterkase, and lots more.
Decisions, decisions.
Eleven City Diner
1112 S. Wabash Avenue, Chicago
(312) 212-1112
2301 N Clark Street, Chicago
(773) 244-1112
Website
Grange Hall Burger Bar
844 W. Randolph Street, Chicago
(312) 491-0844
Website
Epic Burger
Multiple locations, Chicago
(312) 243-3605
Website
25 Degrees
736 N. Clark Street, Chicago
(312) 943-9700
Website