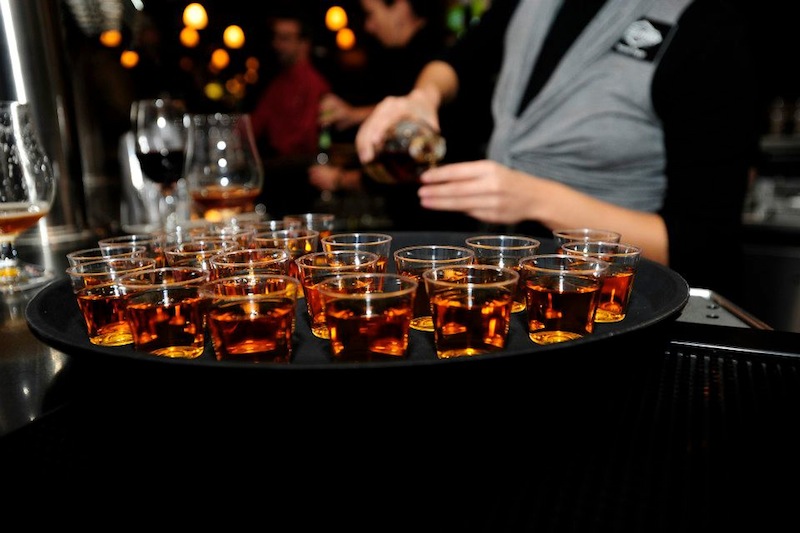 Today is Repeal Day, which honors the 1933 anniversary of the repeal of Prohibition. The 21st Amendment, signed December 5, 1933, made it legal again to imbibe, something that deserves celebrating. Crack open a bottle at home tonight or check out one of these events going on around town.
To get in the mood, watch Ken Burns' documentary Prohibition.
The Chicago Botanic Garden hosts a seasonal tasting tonight from 6-8 pm. They've rounded up a fantastic lineup of local sips, including North Shore Distillery, Few Spirits, Koval Distillery, Lynfred Winery, Glunz Winery, Two Brothers Brewing Company, Lake Bluff Brewing Company, and others.
From 7:45-9 pm tonight, the Chicago History Museum hosts Cocktails and Capone, which includes a talk about Chicago bootlegging by John Russick, director of curatorial affairs, stories from Al Capone's great niece, Deirdre Capone, and tastings from Templeton Rye.
Head into Longman & Eagle to sample some favorite Prohibition-era cocktails that you don't see much anymore. They'll be serving up the Diamondback (Rittenhouse Rye Bonded, Applejack Bonded, Yellow Chartreuse), Full House (Applejack Bonded, Benedictine, Yellow Chartreuse, aromatic bitters) and Ampersand (Hayman's Old Tom Gin, Landy Cognac, Punt e Mes, Orange Bitters Curacao).
If you can wait five days to celebrate, Encore Liquid Lounge is hosting a Repeal Day beer dinner on December 10 at 7 pm. The lounge is located in the Hotel Allegro, which was the first place in the country to legally sell beer again in 1933. Libations are from Metropolitan Brewing, and dishes include arugula salad, braised short rib, and German chocolate cake. Each course will be paired with a beer.
Chicago History Museum
1601 North Clark Street
Chicago, IL 60614
(312) 642-4600
Website
Encore Liquid Lounge
171 West Randolph Street
Chicago, IL 60601
(312) 338-3788
Website
Chicago Botanic Garden
1000 Lake Cook Road
Glencoe, IL 60022
(847) 835-5440
Website
Longman & Eagle
2657 N Kedzie Avenue
Chicago, Illinois 60647
(773) 276-7110
Website