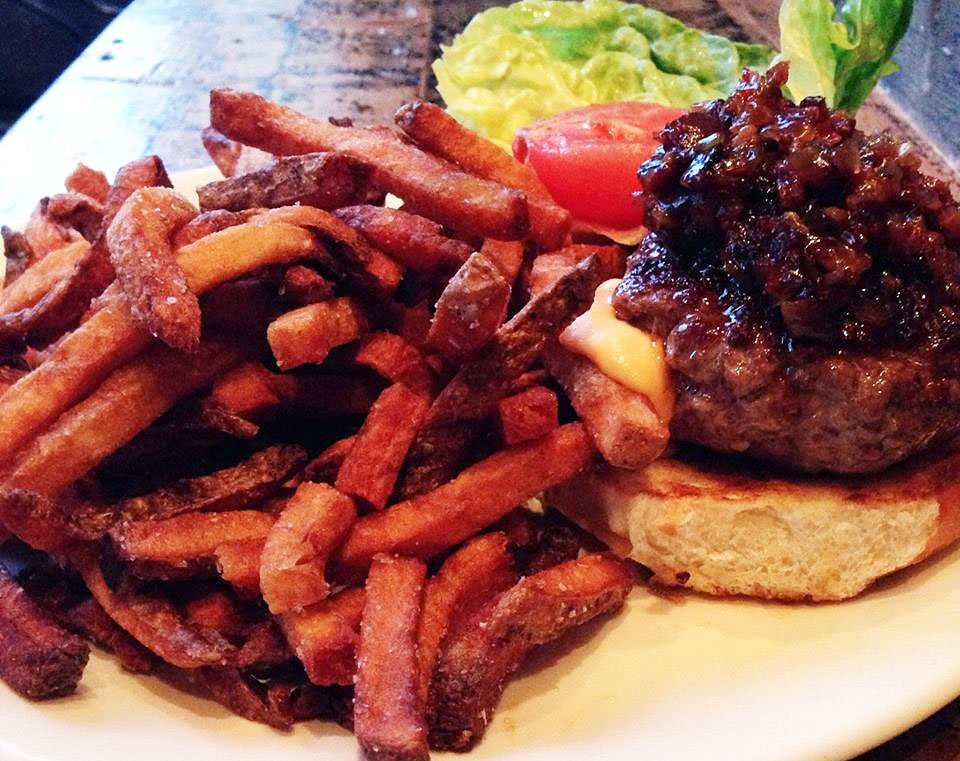 In the pantheon of quintessential comfort foods, it's hard to improve upon a good old fashioned cheeseburger, unless of course you fill the beef with gooey cheese and crimp dual patties around the melty innards. Such is the tale of the Juicy Lucy, a Minnesota creation that has steadily been amassing acclaim and enlightening burger-happy customers in Chicago. From total obscurity to relative familiarity and eventually and inevitably world domination, the Juicy Lucy is slowly sweeping Chicago, making stops at such spots as Dusek's Board and Beer, The Anthem, and Birchwood Kitchen.
Juicy Lucys get the gourmet treatment at Dusek's Board and Beer, where executive chef Jared Wentworth amplifies his cheesy creation with mornay sauce, bacon marmalade, and house-baked bread. After trying a Juicy Lucy for the first time, Wentworth sought to implement something a little different from the standard burger at Dusek's. Starting out with two thin patties, he uses a hamburger press to seal a cheddar-based mornay sauce in the middle. It's all outfitted with bacon marmalade, butter lettuce, slow-roasted tomatoes, and house-baked sesame seed challah bread. In fact, Dusek's is now baking and supplying bread for sister spots Longman & Eagle and Bite Cafe as well.
At The Anthem, the 80:20 meat-to-cheese ratio sets the foundation for a memorably salacious meal. Two thin burgers are hand-pattied in-house and crimped around a dollop of Velveeta with just a bit of salt and pepper for seasoning. All Juicy Lucys at The Anthem are cooked to medium, as that's the ideal temperature for preserving the integrity of the cheese and making sure it's just melty enough without burning. On the menu since The Anthem opened in 2011, making it one of the progenitors of the Juicy Lucy hoopla, the burger has been a perpetual crowd-pleaser ever since.
Birchwood Kitchen puts a porcine spin on the Juicy Lucy concept as part of its "burgers at night" series, wherein a different trifecta of burgers are featured on weeknights for a season or so. The meat of choice is pork from Slagel Family Farm, imbuing a new level of juiciness to the Juicy moniker. It's stuffed with smoked mozzarella, topped with a fried egg and garlic aïoli, and served on a pretzel roll.
Dusek's Board and Beer
1227 W. 18th Street, Chicago
(312) 526-3851
Website
The Anthem
1725 W. Division Street, Chicago
(773) 697-4804
Website
Birchwood Kitchen
2211 W. North Avenue, Chicago
(773) 276-2100
Website