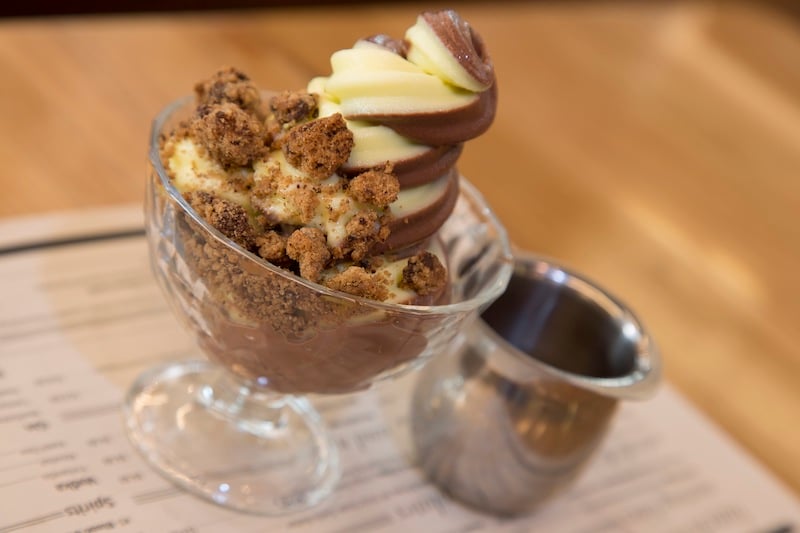 It's finally hot outside and one Chicago restaurant is celebrating the rising temperatures with free sundaes until May 19. If you visit Little Market Brasserie between 9 and 11 p.m. any day until then with a group of four, you'll get a free Milk and Cookies Sundae.
The dessert features housemade chocolate chip cookies topped with vanilla and chocolate soft-serve ice cream. The ice cream is coated with an upscale version of Magic Shell, the fudge sauce that hardens to form a shell.
Of course, it's so warm out that you may want to make multiple sundae runs this week—though you won't get these for free. The classic choice is Margie's Candies, where you can get nearly any sundae you can dream up, including the World's Largest Terrapin, which has fifteen scoops of ice cream topped with hot fudge, a banana, cookie, whipped cream, and nuts. Sugar Shack makes funnel cake sundaes that consist of funnel cakes with topped vanilla soft serve, one wet topping, one dry topping, whipped cream, and a cherry.
Sugar Shack
630 West 26th Street, Chicago
(312) 225-6568
Website
Margie's Candies
1960 North Western Avenue, Chicago
(773) 384-1035
Website
Little Market Brasserie
Talbott Hotel
10 East Delaware Place, Chicago
(312) 640-8141
Website