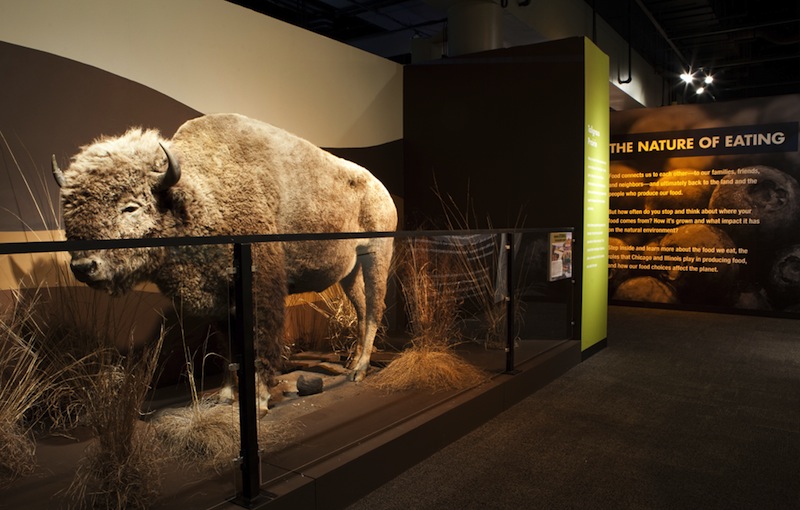 How much do you think about where the food you eat comes from? Your favorite chefs certainly do, and now a new show at the Peggy Notebaert Nature Museum aims to educate Chicagoans about what it takes to get food from farm to plate.
"Food: The Nature of Eating," takes us from the early days of Illinois farming on the prairie up to current "farm-to-table" restaurants. A kid-friendly show, the exhibit was curated by the Museum and features thoughtful multimedia installations.
The show opens with taxidermied animals – a giant bison, prairie chickens, and other animals showcase how important hunting once was as a source of food. Settlers didn't know how to farm the land, which had a thick layer of sod, until the plow was invented and could cut through to the soil beneath it. Once people could farm, they grew corn, soybeans, and wheat. While suddenly there was more food to eat, the cost of this was loss of animals – prairie chickens are all but gone, bears were pushed out, and birds, like the curlew, became extinct.
Another part of the exhibit looks at the high cost of importing food, which will make anyone who eats a winter tomato wonder why they're doing so. Foods eaten out of season don't taste as good and it takes a great deal of fuel to get them to our grocery stores. But this isn't a new thing. Back in the stockyard days, cattle was transported from Texas to Chicago via train, and then distributed around the country. We haven't been eating locally for a very long time, and that has an impact on the environment.
But the show is optimistic that people are starting to realize that this way of eating isn't sustainable. Iliana Regan, the chef at Lincoln Square's Elizabeth, explains that she foraged in Illinois as a child and continues to do so today. At Elizabeth, she preserves foods during the summer so she can serve them in the winter. We may not have as many family farms in the state as we once did, but people are starting gardens on rooftops and sharing urban plots in the city. School lunches are getting healthier as well.
"The Nature of Eating" is a compelling look at the state of food in Chicago and the United States overall. Stay tuned, since there will be food-related programming taking place during the run of the show. The show is now open and runs through September 8.
Peggy Notebaert Nature Museum
2430 North Cannon Drive, Chicago
(773) 755-5100
Website