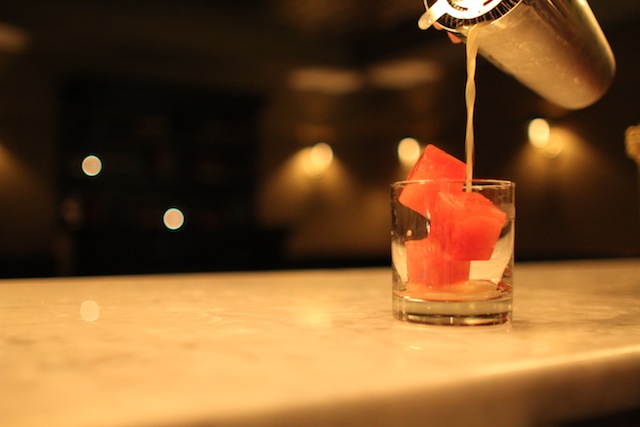 Icy cocktails are best served on the beach or on a scorching hot summer day – not when the temperature is below freezing. But as bars and restaurants revamped their cocktail lists to make them more winter-friendly this year, a couple spots included drinks that hinge on ice cubes. Flavored ice has become more popular in cocktails recently, and over the summer, the Aviary, Two Sparrows, and other spots were using summery flavors in their cubes. But now that it's February, you can still find cocktails that become more complex as the ice melts – they're just decidedly more wintery.
At Drumbar, newly minted beverage director Craig Schoettler (formerly of the Aviary, so flavored ice shouldn't be a surprise) has two cocktails that use flavored ice cubes. The Peared cocktail is made with Grey Goose Le Poire, ginger syrup, orange juice, lemon juice, rosemary, and cinnamon ice. The Cranberry is made with Elijah Craig 12-year bourbon, ginger syrup, orange juice, and cranberry ice. Each cocktail has a great base, so you can begin sipping immediately. But as the ice melts, the cinnamon adds warm spice notes while the cranberry adds a tart acidity.
At Storefront Co., fig gets the ice cube treatment in the Sweet Anise, made with St. George Absinthe Verde, yellow chartreuse, fennel juice, and orange bitters. The fig is an unusual flavor in cocktails already – as is fennel, for that matter – and it's a rich, almost savory sip.
Drumbar
201 East Delaware Place, Chicago
(312) 943-5000
Website
Storefront Co.
1941 West North Avenue, Chicago
(773) 661-2609
Website