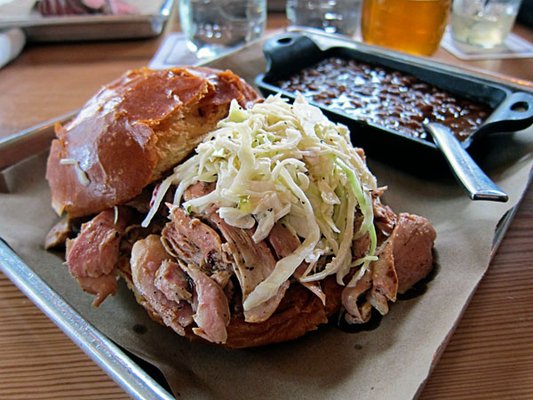 If you are anything like me, you are in a constant craving for good BBQ. Well you're in luck – with my father as an avid barbequer - my 20-something years' experience of eating deliciously perfected ribs, brisket and pulled pork, I consider myself a pretty good judge of "good BBQ", and Lillie's Q passes the test.
First of all I have a confession. Any place that serves beverages out of a mason jar probably has a leg up on the competition. Haven't you noticed that anything out of a mason jar automatically is delicious? Not to steal Will Ferrell's words, but "Once it hits your lips it's so good!" With a great beer selection, I was a little bias and tried a Great Lakes Oktoberfest from my home town - delicious as usual.
After a few sips and feeling slightly tipsy I decided the "eating healthy" idea I had at the beginning of the night was going out the window. An order of fried pickles was on the horizon, and from someone who's dinner often consists of a jar of Vlasic's Kosher Dill Spears they were probably some of the best fried pickles I have ever had, not too much breading and not greasy.   Refusing to share, I ate the entire order of 5 or so and then moved on to my Tri-Tip Sandwich (smoked beef) on a fresh Brioche Bun Southern Style - meaning the addition of a healthy portion of coleslaw on top.
I love that Lillie Q's gives you the freedom to try from their array of 6 sauces. I of course had to try them all: Carolina and Carolina Gold - both your traditional Carolina ketchupbase; East Carolina, a vinegar sauce packs a kick; Ivory, Smoky, and my sauce of choice Hot Smokey.
The bartender went through the menu, explaining that sandwiches come as they are and if you want to add a side - by all means go for it. Since I ate a nice helping of fried pickles I passed on the side, but my friends tried the Mac'n'Cheese with bacon. And yes, I know this is a bold statement but probably the best, creamiest, cheesiest,  mac'n'cheese I have ever had. I would recommend adding some sort of meat, as its pretty rich without.
The restaurant is on the cozy side, currently they do not take reservations so I suggest getting there at an off time - or get lucky like me and snag a seat at the bar and catch some college football while indulging in a root beer float to die for - but again I think that might have something to do with the mason jar it comes in.
Lillie's Q is located at 1856 W. North Ave, Chicago.
They can be reached at (773) 772-5500.