Check out host finalist Emilie Rose Bishop. Watch an out-take from her audition: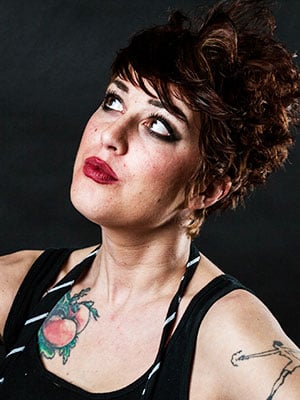 Emilie Rose Bishop
Chief Mixologist at iNG
Why are you the best host for Check, Please!?
I have worked in restaurants throughout the country since I was 13. I started as a dishwasher and immediately fell in love with anything and everything revolving around food, cooking, and restaurants. The restaurants I worked in and the people I worked with quickly became a second home and a second family. I was hooked. I gradually moved up the ladder and began cooking. I loved it even more! I found that joy that comes with creating something to give, to feed people food I had cooked felt like I had a purpose in life – to create joy, to make people feel the home away from home feeling I first had when I began. From then on I helped open restaurants in various locations and continued to work every station possible. While working as a Barista during the mornings in Milwaukee WI, I also began tending bar and discovering that other aspect of a business. I basically love food, people, and the art of creating something for others. I also love to eat and have no allergies!!! Bonus! I currently am the Chief Mixologist at iNG restaurant in the Fulton Market. Working closely with Chef Homaro Cantu has been an amazing eye opening experience. I get to play around with liquid nitro on a daily basis!