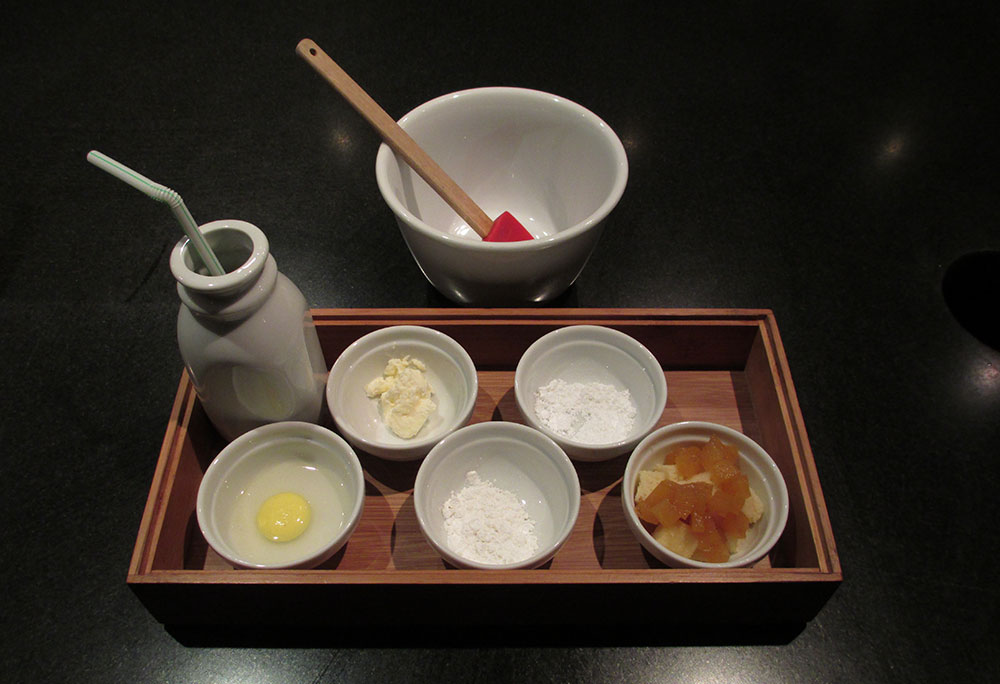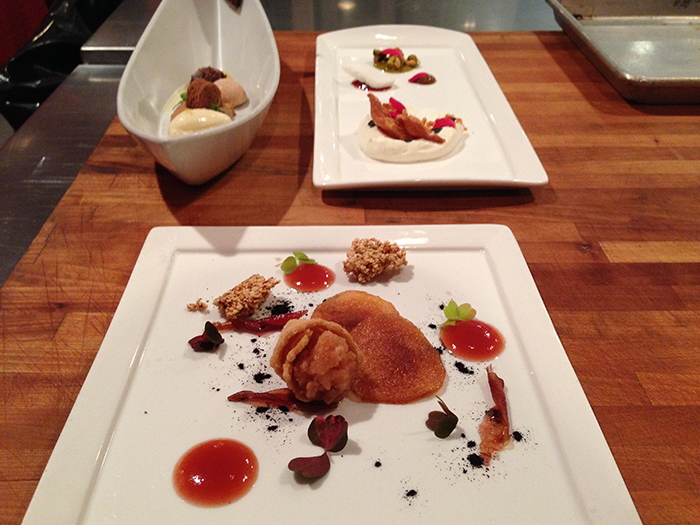 There's more than a little bit of whimsy on the pastry menus at moto and iNG, Homaro Cantu's double whammy of envelope-pushing molecular gastronomy. The restaurants are revered for their clever preparations and thought-provoking techniques, both of which carry over handily into the sweet realm. At moto, you've got Claire Crenshaw to thank for that, while next door at iNG, dessert falls under the tutelage of executive chef Tim Havidic.
The elder of the two restaurants, moto, proves that it's still as sharp and crafty as ever with desserts like Baking 101. One of the desserts Crenshaw offers on the tasting menu, Baking 101 toys with nostalgia in a way like no other chef, sweet or savory, is doing in Chicago. By tinkering with the idea of childhood memories licking batter off spatulas, the adroit pastry chef is able to contrive an elaborate, molecular dessert that looks homey and simple. The dessert has been an ongoing menu item for more than a year, with Crenshaw curating a veritable curriculum of different Baking 101 dishes every few months. Things started off with cookie dough, then progressed to peppermint brownie batter, followed by white chocolate-raspberry cheesecake. The current iteration is pineapple upside-down cake, and for each dessert guests are presented a tray of ingredients that they simply mix together into a bowl and lick off a spatula. The tray resembles your standard baking mise en place, but there's so much more than meets the eye. The egg is really creme anglaise dyed with turmeric to resemble a yolk, gelled and frozen in tiny molds before they're gently cooked in an alginate bath to form a thin membrane around the exterior. They're immersed in an "egg white" of simple syrup with xantham gum and locust bean gum. A modified buttercream with a one to one ratio of sugar to butter arrives in another vessel, along with dehydrated and ground Italian meringues for sugar, a rice flour-cornstarch mixture, and morsels of yellow cake and roasted pineapple. It's all served with a glass of pineapple milk made with pineapples, milk powder, rice wine vinegar, and xantham gum. The goal for Crenshaw was to cultivate an ever-evolving dessert that could follow the trajectory of a home economics class, starting with basics such as cookies and brownies and progressing to more elaborate fare. In the future, she has her sights set on chocolate mousse, ice cream, and pies and tarts.
In other moto dessert news, Crenshaw just unveiled her Spooky Tree, the latest example of Chicago's niftiest mignardise presentation. Recently, the pastry chef has been pimping out small faux trees with edible cherry treats, presenting it to the table along with the check as a wow-inducing finale. Just in time for Halloween and the ensuing fall weeks, she's changed things up and made them spookier, stripping the trees of their blossoms and replacing them with eerie threads of cotton candy dusted with root beer powder.
Next door at iNG, Havidic has his own style of dessert cookery. Here, sweets are themed to fall under the umbrella of whatever tasting menu is currently in place. The current iteration is street food, so naturally Havidic seeks to completely reinterpret and re-invigorate what it is to eat dessert on the streets. There are snow cones, cannolis, and churros like you've never seen or tasted before. The snow cone is designed to mimic a snow cone a kid dropped on the ground (or a clumsy adult), featuring roasted barley powder reminiscent of dirt, micro oxalis standing in for greenery, and a snow cone made with plum snow, plum-soy puree, candied plums, and candied plum skins. Havidic goes Italian with his interpretation of a cannoli, a deconstructed version made with goat's milk ricotta mousse, bits of cannoli shell, ground-up cannoli bits, and adjoined by accompaniments typically found in or with cannolis. Cherry puree, pistachio puree, and espresso puree are all present and accounted for, flecked with dainty rose petals. Then there's the churro, an elaborate Mexican street food renaissance made with cocoa nib cookies, orange-lime-vanilla sauce, champurrado cream, a champurrado cookie, a churro cookie, burnt cinnamon ice cream, and churro ice cream with cinnamon and white chocolate. Lime pastry cream and micro cinnamon basil round out the most elegant churro you'll ever eat. And in preparation for iNG's forthcoming Salvador Dali-themed tasting menu launching November 19, Havidic will soon veer away from street food, opting to create dishes inspired by pieces of art or quotes by Dali. One dessert to look forward to is a course inspired by Architechtonic Angelus, an artistic medley of brioche mousse, apricot-wine puree, dried cherry, roasted pistachio-honey puree, and a spear of Spanish nougat immersed in liquid nitrogen to create a crackly texture and facilitate cloud-like puffs of smoke.
moto
945 W. Fulton Market, Chicago
(312) 491-0088
Website
iNG
951 W. Fulton Market, Chicago
(855) 834-6464
Website