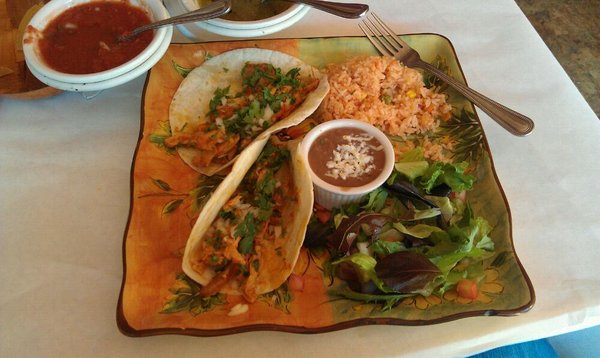 Cosina Grill Dish
Chicago has many excellent Mexican restaurants. I have eaten at quite a few of them, including some excellent recommendations from Check, Please! So, there has to be something special about Cosina Grill for me to bring it to your attention. A small double storefront in the western edge of the Andersonville neighborhood, the walls display Mexican folklore, and wooden tables are in two pleasant rooms. Say the secret word, and you get a free order of guacamole! The "coupon" is on their website, and has not changed for a while so try "piggybank." Family owned and operated, the restaurant reflects the background of owner/chef Israel Olguin and his wife Maria, with authentic regional family recipes and with warm and friendly service.
The restaurant is B.Y.O.B., with a $1.00 per drinking person charge as a corkage on wine. "Virgin" Margaritas and daiquiri mixes are provided for between $3.00 to $3.50 per glass, or $10.00 to $11.00 per pitcher, and you bring your own rum or tequila.
Chips are brought to the table with 3 different salsas. Appetizers include the guacamole, queso fundido, garlic infused sauteed shrimp, grilled squid salad, quesadillas, tamales, and a house nacho plate. Entrees are served with a house salad or torilla soup. Fajitas can be made from chicken, skirt steak, shrimps, or a totally vegetarian option. They were delicious. I had the steak "La Oaxaquena", a butterflied piece of filet mignon with a tomatillo sauce, perfectly medium rare as ordered. My son had the pork tenderloin "Mole Dona Esperanza" a dark and complex mole made with 19 different ingredients. The portion sizes are generous, but it is the flawless executions of the dishes that elevates Cosina Grill above the rest. The family atmosphere, the friendly service, and wonderful food make for a fun time for you and your friends.
Cosina Grill is located at 1706 W. Foster Ave Chicago, IL 60634. For information about the restaurant call 773-271-7103.