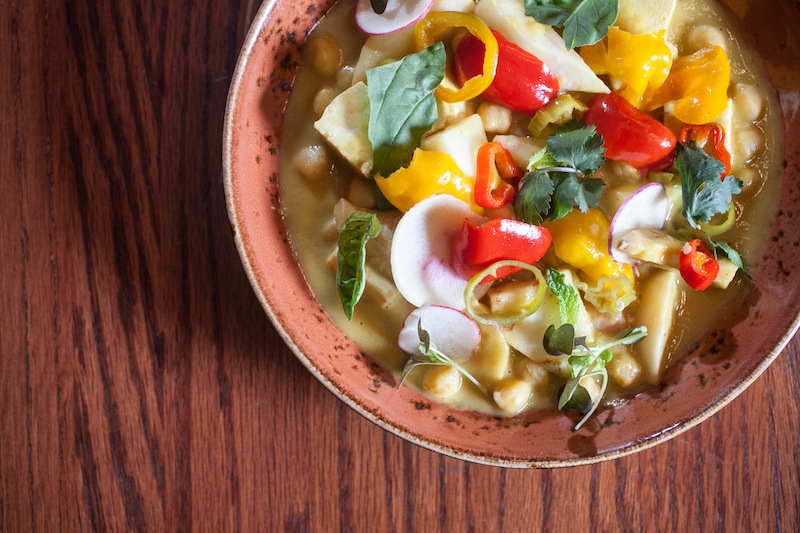 Photo credit: Galdones Photography
We're all becoming more eco-conscious in our daily lives, and restaurants are as well, by using sustainable ingredients and making their buildings greener. To celebrate Earth Day, which is on Monday, April 22, some local spots are offering earth-focused specials like ecology talks and discounts on meatless meals starting this weekend.
Sandwich Me In, a sandwich shop in East Lakeview, is throwing an all-day event on Sunday from 11 am to 8 pm. The event focuses on sustainability and community education, and includes food and beverage samples, live music, talks about gardening, composting and ecology, and more. Sandwich Me In sources food from local farms, composts and recycles all waste, and gets electricity from wind power.
In Evanston, Found focuses on the environment year-round by offering at least five completely plant-based dishes like root vegetable stew with garbanzo beans, turmeric, and tofu. The restaurant also uses regional, sustainable caviar, recycles and composts waste, and outfits the restaurant with recycled décor.
You can eat greener (and more healthfully) just by going meatless – raising livestock uses more water than growing vegetables and also emits a large amount of greenhouse gas. Epic Burger is offering a 20% discount on its Portobello sandwich meal every Monday starting on Earth Day. Get the sandwich topped with lettuce, tomato, onion, pickles, and Epic sauce, and make it a combo by adding fries or a salad and a drink. Try the frozen yogurt milkshake in flavors like vanilla, chocolate, and peanut butter.
In La Grange, eco-conscious restaurant Prasino is hosting a farm-to-table dinner to benefit Slow Food Chicago and the Cossitt School Garden in La Grange. The menu includes parsnip soup with wild flower honey crumble and Great Lakes Walleye Pike with spinach and sunchoke puree. Each of the four courses is paired with wine.
Magnolia Bakery is donating 100% of the proceeds from its Earth Day cupcake (vanilla or chocolate cake with green and blue frosting) to the Alliance for the Great Lakes. If you buy six Earth Day cupcakes, you'll get a Magnolia Bakery eco-tote bag.
Learn about biodynamic wine (an approach to growing grapes that considers how the whole vineyard works together) at Chicago Q on Monday night. Sample wines by the glass or bottle.
Sandwich Me In
3037 North Clark Street, Chicago
(773) 348-3037
Website
Found
1631 Chicago Avenue, Evanston
(847) 868-8945
Website
Epic Burger
7 Locations
Website
Prasino
93 South La Grange Road, La Grange
(708) 469-7058
Website
Magnolia Bakery
108 North State Street #128, Chicago
(312) 346-7777
Website
Chicago Q
1160 North Dearborn Street, Chicago
(312) 642-1160
Website