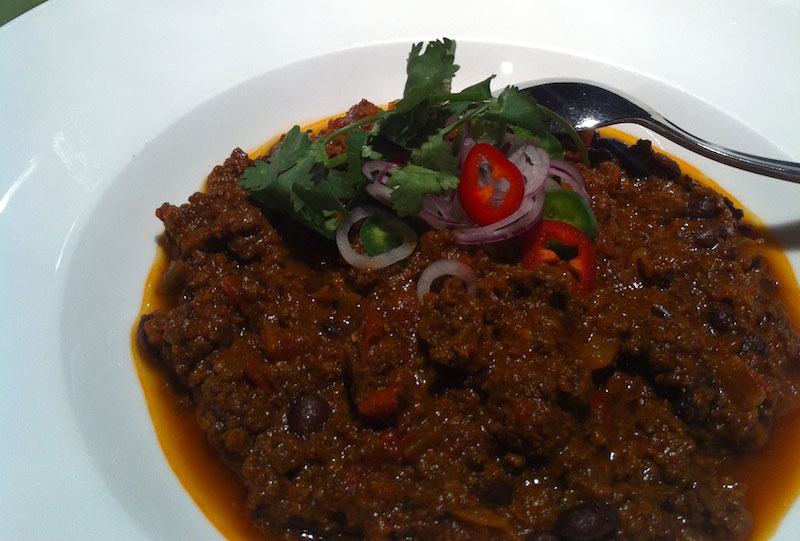 Chili
The Bears kick off at noon on Sunday – are you ready with your game day eats? Take a page from chef Dirk Flanigan of The Gage. Each Sunday, Flanigan serves an elk or venison chili at the restaurant, so you can warm up before or after the game. If you'd rather make a batch at home, Flanigan shared his recipe for "game chili," which includes tomatoes, several types of spicy peppers, beans, and meat.
Dirk Flanigan's Elk Chili

Ingredients

5 lb. elk
0.5 lb. lamb fat
0.5 lb. ground beef fat
0.5 lb. haricot coco white beans
2 cans whole peeled tomatoes
2 diced serrano peppers
1 tsp. ground cumin
1 tsp. cayenne pepper
1 cup minced garlic
1 cup tomato paste
1 can tomato juice
I cup diced onion
1 cup diced celery
1 cup diced red pepper
Sachet bag (bay leaf, thyme, guajillo pepper)

Directions

Soak beans overnight.
Cook beans with celery and onion until tender.
Place fat in a large saucepan over medium heat and render fat into liquid. Add elk meat (do not stir for three minutes to ensure caramelization.)
Add cumin, cayenne, peppers and other vegetables and sauté with the meat to gain color.
Add garlic and tomato paste and cook for two minutes.
Add tomatoes, juice and sachet bag.
Cook for two hours on medium low heat until you have reached desired consistency.
Remove sachet bag. Season with freshly ground black pepper and salt.
The Gage
24 South Michigan Avenue
Chicago, IL 60603
(312) 372-4243
Website