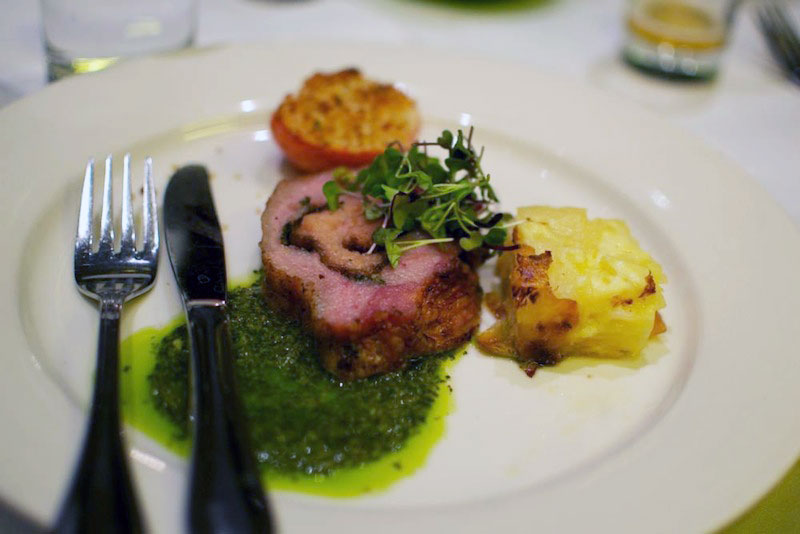 You probably only have turkey on the brain right now, but it's time to wake up and smell the bacon – tickets for the 2012-2013 Baconfest Satellite Dinners are now on sale and dinners start on Tuesday.
First up, on November 27, is Hearty Restaurant, where last year they served bacon-stuffed bacon steak with chimichurri, scalloped potatoes and bacon-stuffed tomato, pictured above. There will be six bacon-focused courses, including bacon fat challah. The dinner is $65 per person, which includes an aperitif and cocktail. Seatings are at 6 pm. and 8:45 pm.
Maison Brasserie hosts a dinner on December 3, and Chef Perry Hendrix promises bacon fat gougeres and braised bacon with Riesling. It kicks off with a reception with appetizers and drinks at 6 pm, and then there's family-style communal seating beginning at 7 pm. The dinner is $80 per person and includes paired beverages.
On December 10, newcomer Red Door hosts a dinner that includes soy cured and smoked pig face gyoza. There are passed appetizers and cocktails at 6 pm, followed by dinner at 7 pm. Tickets are $55 and include an aperitif and cocktail.
Three Aces hosts the final dinner on January 14, and while there are no details on it yet, at last year's Baconfest, chef Matt Troost made bacon bolognese and a vanilla-bacon-bourbon milkshake, so that will give you an indication of what delicacies to expect.
To snag reservations, head to the Baconfest website.
Hearty Restaurant
3819 North Broadway
Chicago, Illinois 60613
(773) 244-9866
Website
Maison Brasserie
333 East Benton Place
Chicago, IL 60601
(312) 241-1540
Website
Red Door
2118 North Damen Avenue
Chicago, IL 60647
(773) 697-7221
Website
Three Aces
1321 West Taylor Street
Chicago, IL 60607
(312) 243-1577
Website