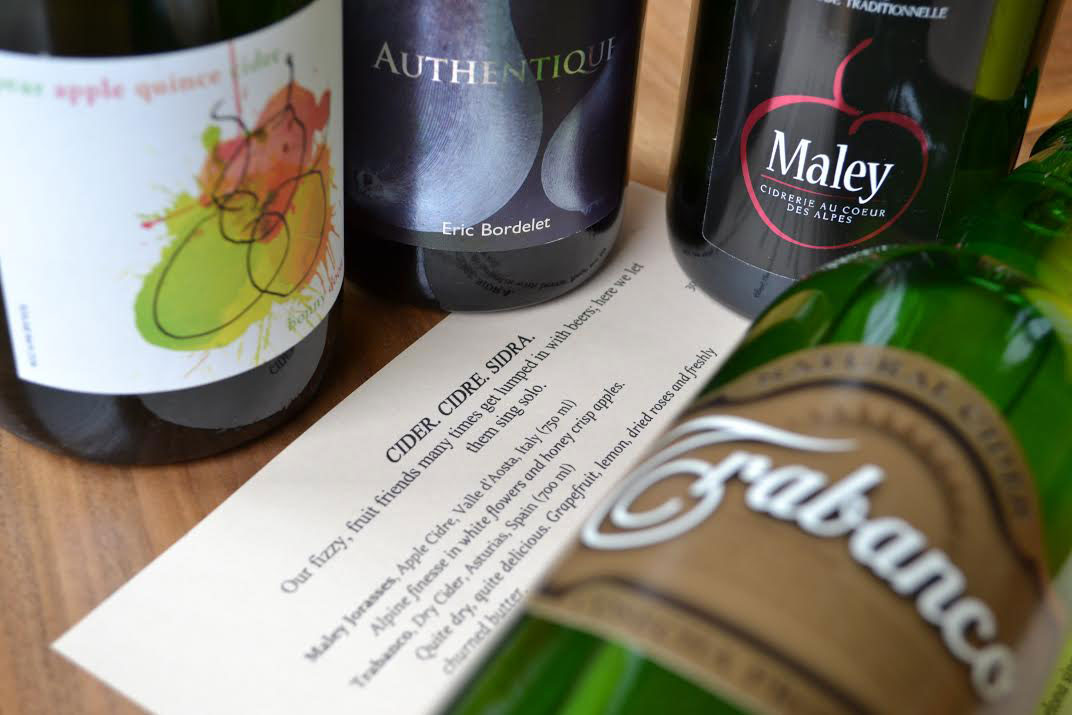 Vera
Since opening in 2011, Vera has cemented its cred as one of the quintessential wine bars in Chicago, renowned for its exemplary vino and one of the best sherry programs this side of the Mediterranean. But what most folks probably don't realize is that Vera is a hotbed for cider as well. As the pome-based potable continues to take off in Chicagoland (case in point the success of Virtue Cider and two forthcoming cider-focused bars and restaurants), Vera celebrates the beverage, giving it due diligence alongside its roster of wines and beers.
"We're very excited to see cider getting so much attention from the restaurant and beverage industry," says Liz Mendez, co-owner and beverage maven at Vera. "With our wine list focusing on Spanish, French, and Italian wines, it only makes sense for us to have ciders there as well." Last year, Vera put cider in the spotlight a little more by carving out its own niche on the beverage menu. "We felt they need a solo shining spot on the list, rather than be grouped with beer as they many times are on lists throughout the country," explains Mendez. The wine bar manages to go beyond cider's Johnny Appleseed stereotype as a purely Americana tipple, showcasing European traditions and pairings and thus educating guests on the broad scope of the cider world. Mendez notes that in Europe, cider from Asturias traditionally pairs with fabada, a warming bean stew similar to cassoulet. Try the combo at Vera and marvel at the most harmonious pairing since peanut butter met jelly. Also, in adhering to European custom, Vera pours cider from elevated porrons, so as to pronounce the aromatics inherent in such ciders.
Vera
1023 W. Lake Street, Chicago
(312) 243-9770
Website
Matt Kirouac has been writing about food for publications in Chicago and around the country for several years now.
Follow Matt Kirouac on Twitter: @Mattsland