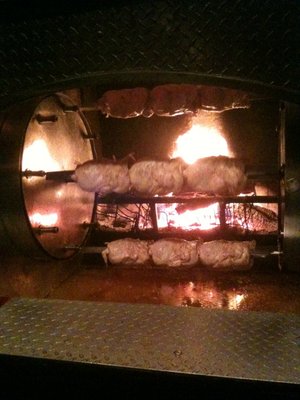 Many restaurants serve chicken, but for a truly unique  chicken experience, Andrews Open Pit is my recommendation.  Located in Park Ridge, Illinois in a strip mall, your not sure what you are going to get, but when you go inside and there is a wait, you know there must be something about the
place that keeps it packed. The menu consists of wood roasted chicken, rotisserie pork roast, and baby back ribs.   All of the dishes look delicious, but the roasted chicken is the best.  It is tender, juicy and melts in your mouth.  Can't decide between the chicken or the ribs? Get both!  The combo dinners give you a sample of both of their amazing dishes.  I have been to this restaurant on more than one occasion, and not only does the food keep me coming back, but the price does as well.  The prices are reasonable and include choices between soup or salad, potatoes cooked in various ways, and an assortment of delicious breads. Andrew's Open Pit gets extra marks because it is family friendly with a relaxing atmosphere, something I look for with two small children.  I love Andrew's Open Pit, and I would recommend anyone make a journey out to Park Ridge to try it.  It is an excellent dining experience and once you there you won't regret it!
I am a food lover, wine connoisseur, and always up for adventure. Originally from a small town in Southwest Virginia, my grandmother's cooking inspired my love of food. Since college I have strived to mimic her style, and I am constantly searching for restaurants that remind me of that taste of home. I have lived in Virginia, Ohio, Chicago and now Oak Lawn and I am always in search of the perfect bite.