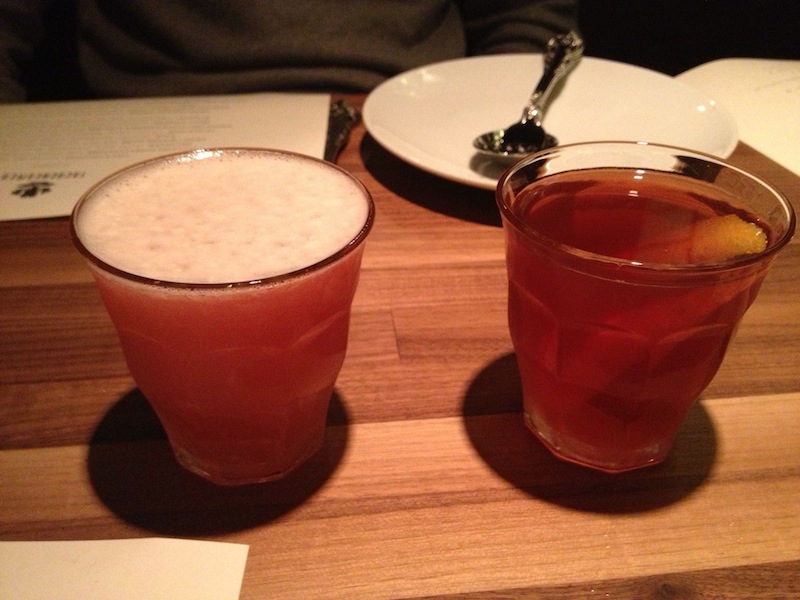 Trenchermen
The Trend
Pine Needles
What
You took down the Christmas tree, but pine needles are sticking around a bit longer – on menus.
Why
Pine needles are edible, and they impart a fresh pine flavor that works in everything from cocktails to meat and fish dishes.
Where
At Trenchermen, beverage director Tona Palomino has created a pine needle whiskey by infusing George Dickel Cascade Hollow with pine needles that "a crew of foragers in Oregon climb 25 feet up in the air to handpick." It's then used in the Pioneer cocktail, with combines the whiskey with Campari and citrus. At David Burke's Primehouse, Rick Gresh is using small pine branches for the sticks in his duck and foie gras dumpling. At NAHA, Carrie Nahabedian has a pine needle eau de vie in the works, and uses a forager to get spruce tips.
Chefs Say
"We don't do anything other than snip the needles, twig and all, and let them steep in the whiskey overnight," Palomino says. "The resulting hooch we call Piney Dick, and it's pretty fun. On the nose there is a great whiff of pine up front, tapered by notes of mellow, sweet whiskey. On the palate, the pine and the whiskey are separate entities, that weave in an out of one another, and meld, so each is unmistakable and enhanced by the other."
Amy Cavanaugh writes about food, drink, and travel for publications in Chicago and elsewhere. She is also the weekend editor of Chicagoist.
Follow Amy Cavanaugh on Twitter: @AmyCavanaugh