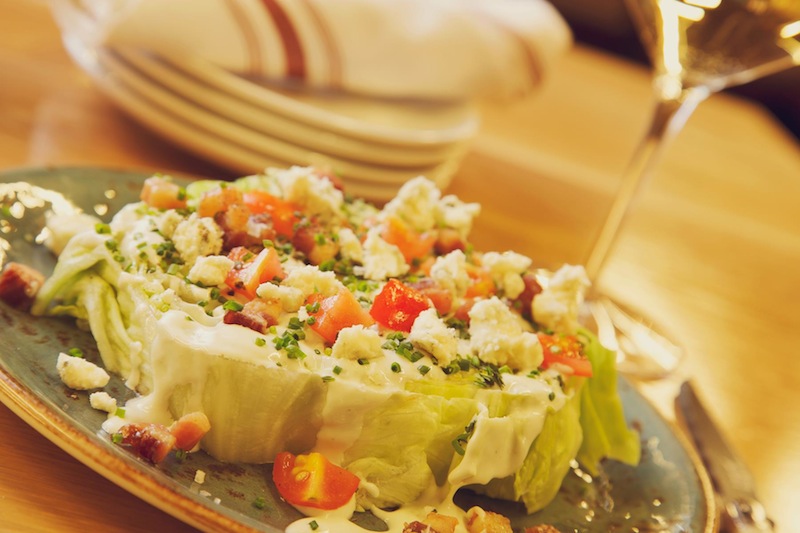 Little Market
Retro food items – think cupcakes – continue to make a comeback, and one of the latest to reappear is the wedge salad. Traditionally made with a thick slice of iceberg lettuce, tomatoes, hardboiled eggs, bacon, and blue cheese, the salad is a throwback to the 1950s and 60s and is a staple on steakhouse menus. But it has started to appear at other restaurants as well and is an ideal summer starter – it's fresh, crunchy, and won't fill you up too much for the rest of your meal. Here are five spots to try spins on wedge salads.
Markethouse makes a wedge with Hill County blue cheese dressing, croutons, applewood-smoked bacon bits, and changes things up with oven roasted tomatoes.
At Eddie Merlot's, the wedge is made with a quarter head of lettuce, chopped eggs, bacon, red onion, tomatoes, and olives. Here's where things get crazy: you can choose the dressing from among blue cheese, maple apple cider vinaigrette, or hot bacon.
Rosebud Steakhouse's wedge is made with roasted tomatoes, Gorgonzola, and bacon vinaigrette. It gets a bit of acid from pickled red onions.
At DMK Burger Bar, try the wedge salad to balance out the cheese fries. The salad is made with lettuce, tomato, bacon, egg, scallions, and housemade blue cheese dressing.
Little Market's iceberg wedge has lettuce, blue cheese, tomato, and bacon, but it's cut into a flat round, which makes it easy to slice into.
DMK Burger Bar
2954 North Sheffield Avenue, Chicago
(773) 360-8686
Website
Markethouse
611 North Fairbanks Court, Chicago
(312) 224-2200
Website
Little Market
10 East Delaware Place, Chicago
(312) 640-8141
Website
Rosebud Steakhouse
192 East Walton Street, Chicago
(312) 397-1000
Website
Eddie Merlot's
Website
201 Bridewell Drive, Burr Ridge
(630) 468-2098
185 N Milwaukee Avenue, Lincolnshire
(847) 276-2000
28254 Diehl Road, Warenville
(630) 393-1900
Amy Cavanaugh writes about food, drink, and travel for publications in Chicago and elsewhere. She is also the weekend editor of Chicagoist.
Follow Amy Cavanaugh on Twitter: @AmyCavanaugh