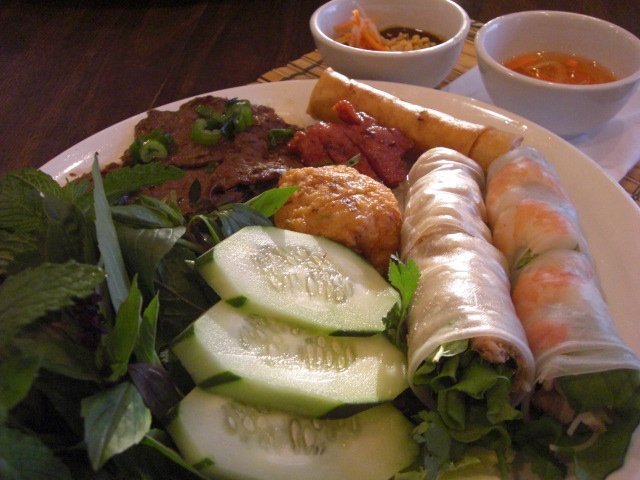 The restaurant that keeps me coming back is Tank Noodle. I love this place because as soon as you walk in, the smell just hits you. You can tell that this is a busy place with lots of turnover, fresh ingredients and freshly prepared dishes. When you look to the side, you see the kitchen partially exposed and all the neat prep and ingredients out in the open. This is very important to me, as I know that if an establishment is comfortable exposing prep, then they have to take good care of it. The unctuous smell of the pho broth and the sight of all the orders being served is an experience worth paying for, even before you eat. When I go in it reminds me of the episode of "Will and Grace" when they go to a dim sum house with another couple. I too want to point and order some of the exquisite bowls that go by as I walk to my table. It's an onslaught of delicate dumplings suspended in savory broth, crisp condiments on a saucer next to a bowl the size of my head full of everything you need to stop a cold in its tracks. If I see that I see someone has an inviting order I'll politely ask what it is. The staff might be a little new at English, but they are proud of what they serve. The customers are a friendly bunch too. Dining is an adventure for me. Not everyone is ready for the 'ride.' Tank noodle satisfies all my senses, and keeps me coming back for more.
 
Tank Noodle
4955 N. Broadway St.
Chicago, IL 60640
(773) 878-2253
Komala Hayes hails from Indiana and currently resides in the Edgewater neighborhood. She is a self proclaimed "hopeless foodie," a sci-fi/action/fantasy film buff, and an "avowed nerd." Her love of food stems from a childhood spent watching culinary icons such as Julia Child and Jeff Smith. Komala loves every aspect of the dining experience- from the anticipation, sights and smells to the presentation and people-watching. It's a chance to learn about other places without a ticket. Komala enjoys watching Check, Please! because she feels that it is a great barometer of what real people like. She has vowed not to enter a "chain" restaurant during her stay in Chicago for graduate school.