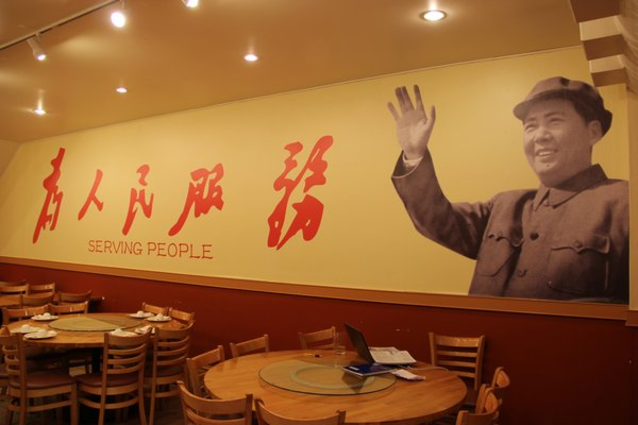 I have a love affair with my favorite Chinatown restaurant, Lao Hunan.
Lao Hunan's menu draws its inspiration from the Hunan province of China. The dishes feature a lot of chilis, garlic, pickled vegetables, shallots, and smoked meats. Every dish balances a lot of strong flavors and most pack a ton of heat. The menu boasts an extensive amount of authentic Hunan dishes, with cuts of meats offered that would humor the most adventurous of eaters. I try a new dish or meat every time I visit, and have yet to be disappointed or disgusted by the way that they've prepared a stomach or a maw. The menu seems infinite, you should try as much as you can, it's all very good.
Don't be turned off if you only order Americanized Chinese cuisine because they offer the best versions. My family ordered Lao Hunan for my birthday this year and spent maybe a half an hour describing its location in Chinatown and giving out its number. The information was demanded by guests who had just eaten the best General Tsao's Chicken, Orange Chicken, and Kung Pao Shrimp that they had ever had.
I always order one of the dishes with chicken because I love the way that they're prepared. My favorites – the Hunan Chicken and the Home Fed Chicken Xiang Xi Style – are like no other chicken entrees I've tasted. The chicken is smoked and paired with vegetables, chilis, and shallots. The Hunan Chicken hits you with an amazing smoky flavor that is unlike the flavor of American or European smoked meats. It's accompanied perfectly by a mellow onion flavor from the shallots and a hint of garlic. The meal starts with a subtle heat in the back of your throat. As you eat, the addictive heat builds, and it builds. The dish ends with a bead of sweat rolling down your forehead, your nose almost running, and you wanting more. It is less a meal and more of an experience that will surely draw you back.
It is because of this feeling that Lao Hunan is one of the few restaurants where I will go and dine alone. Why, you ask? When I look down to my plate, with my mouth full, I will inaudibly respond, "Because this food is so damn good!"
Lao Hunan
2230 South Wentworth Avenue
Chicago, IL 60616
(312) 842-7888
http://www.laohunanonline.com/
Charlie Catino is a Finance Major at Miami University in Oxford, Ohio. He believes that living on a college student's budget does not justify eating like a college student. Charlie spends his time home in Chicago overcompensating for the lack of good food and options offered on his college campus. He has been known to eat out for every meal when on break. He loves coffee (he lives on it at school) and great desserts that complement it. Charlie likes trying trending restaurants and enjoying old standbys. He watches Check, Please! to get great recommendations for both.