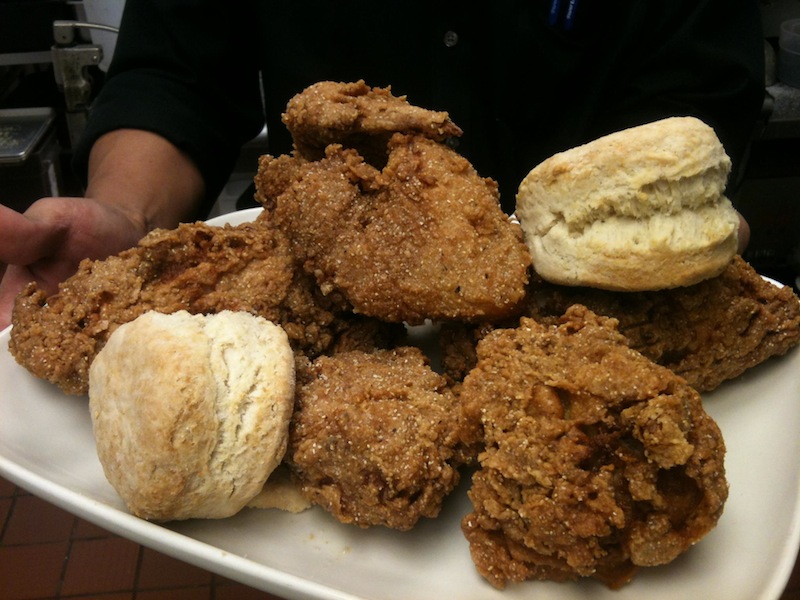 Big Jones Fried Chicken
Fried chicken lovers, rejoice – there's never been a better time to dig into crispy birds than right now. Earlier this month, Big Jones extended the availability of its popular family-style meal and cult favorite Honey Butter Fried Chicken got a physical address. Here's more information on those and three other spots to dig into a plate of fried chicken now.
Big Jones has just started offering its fried chicken for dinner during the week. The fried chicken was previously only available during lunch, making it hard for 9-to-5ers to trek up to the Andersonville restaurant. The dinner, which is served family-style, includes a relish tray with pimento cheese and pickles, cornbread and biscuits, mashed potatoes and gumbo gravy, voodoo greens, red beans and rice, and banana pudding. It's available 5-9 pm Monday through Thursday.
Honey Butter Fried Chicken, which made a name for itself doing pop-up dinners, will be opening a restaurant in Avondale this spring. The honey butter chicken will be available, along with mac and cheese, salads, and desserts.
Pecking Order, which opened this summer in Uptown, serves Filipino-style chicken that's marinated in tamari, sugar, garlic, and bay leaves overnight and then grilled, fried, or roasted. The restaurant is former Wave chef Kristine Subido's brainchild, and she also serves plantains, punches, and brunch.
Lots of restaurants close on Monday, but you can try West Town Tavern's Monday night fried chicken dinner, which comes with garlicky mashed potatoes, sautéed chard and Chef Susan Goss' great-grandmother's recipe for buttermilk biscuits with wild mushroom gravy.
At Crisp, you can try Korean fried chicken, which has a thinner crust and comes with sauces like the sweet Seoul Sassy and sweet and smoky barbecue. It also comes in wing form, or you can get tenders if you're looking for a knife and fork meal.
Big Jones
5347 North Clark Street
Chicago, IL 60640
(773) 275-5725
Website
Honey Butter Fried Chicken
Website
Pecking Order
4416 North Clark Street
Chicago, IL 60640
(773) 907-9900
Website
West Town Tavern
1329 West Chicago Avenue
Chicago, IL 60642
(312) 666-6175
Website
Crisp
2940 North Broadway Street
Chicago, IL 60657
(773) 697-7610
Website
Amy Cavanaugh writes about food, drink, and travel for publications in Chicago and elsewhere. She is also the weekend editor of Chicagoist.
Follow Amy Cavanaugh on Twitter: @AmyCavanaugh