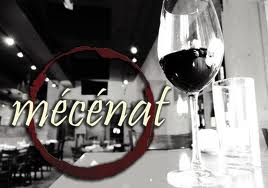 Mecenat Wine Bistro and Gathering is the perfect place for ladies night out, casual or romantic dinner, and even a guys night with a T.V. at the bar to watch the game. The food is extremely unique; I have never found such enticing flavors anywhere else.   The chef is amazing, always thinking outside of the box and you can tell he has no rules or boundaries when creating his next  masterpiece.  I love that the menu changes seasonally; there's always something new to try. Don't be scared though, they do keep certain favorites on the menu year long.  One of my favorite dishes that will always top the charts, though, are the truffle fries. One day I drove 30 minutes out of my way just to have their truffle fries and smoked salmon, and I will go back any day of the week just for those fries.  Another amazing Part of the experience at Mecenat is the unique drinks they have to choose from.  I  will never forget the cinnamon french toast crunch martini I had there for my birthday. (Yes is does taste exactly like the cereal except, with a kick). Also, if  you love wine you'll love Mecenat. The bartenders are extremely knowledgeable and can help you get the perfect wine pairing.  My favorite part of this experience is everyone is so friendly, and the food is to die for. I promise you will NOT be disappointed when you go to Mecenat.
 
Mecenat is located at 821 W. Burlington Western Springs, IL 60558
Megan Kenealy is a 27-year-old event coordinator from Lisle, IL. She attended culinary school and has uses her experience from that to be the ultimate foodie.