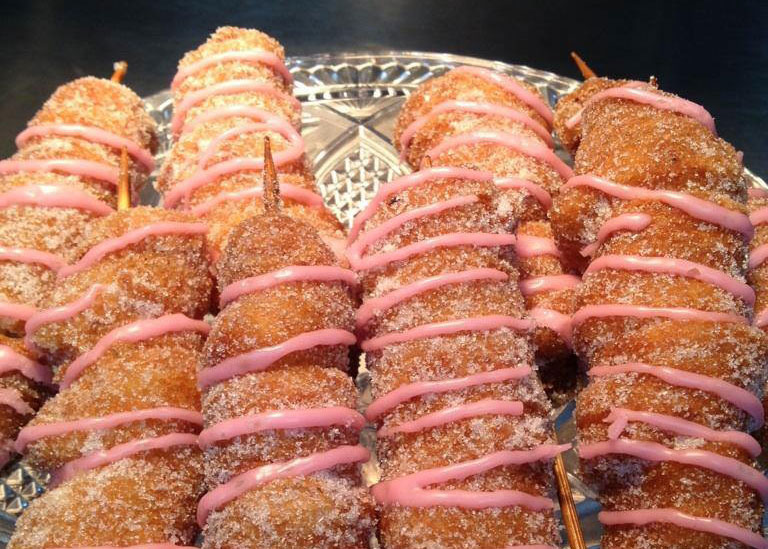 Gur's Croughnut Sticks
No doubt you've heard about the "cronut," the hybrid croissant/doughnut that has swept the nation in the past month. The dessert, the brainchild of New York chef Dominique Ansel, has a trademarked name, so Chicago chefs jumping on the fried dessert bandwagon have to come up with their own names for them. Here's where to find doughssants, croughnuts, dossants, and crognets around Chicagoland.
West Town Bakery is making doughssants, which are fried layers of croissant dough baked into long john-style doughnuts then filled. They're available in chocolate raspberry, blueberry lavender, and coffee cream cheese.
Gur Sweets Bakery in Elmhurst offers croughnuts in both circular and mini-stick versions. They're filled with vanilla filling and topped with sugar.
In Bloomingdale, Chicago Pastry's dossant is filled with jam and has a ring of frosting on top.
La Boulangerie's crognets come in plain, fruit jam, chocolate, glaze, and vanilla cream versions.
West Town Bakery
1916 West Chicago Avenue, Chicago
(773) 904-1414
Website
Gur Sweets Bakery
162 North York Street, Elmhurst
(630) 833-0008
Website
Chicago Pastry
142 North Bloomingdale Road, Bloomingdale
(630) 529-6161
Website
La Boulangerie
2569 North Milwaukee Avenue, Chicago
Website
Amy Cavanaugh writes about food, drink, and travel for publications in Chicago and elsewhere. She is also the weekend editor of Chicagoist.
Follow Amy Cavanaugh on Twitter: @AmyCavanaugh