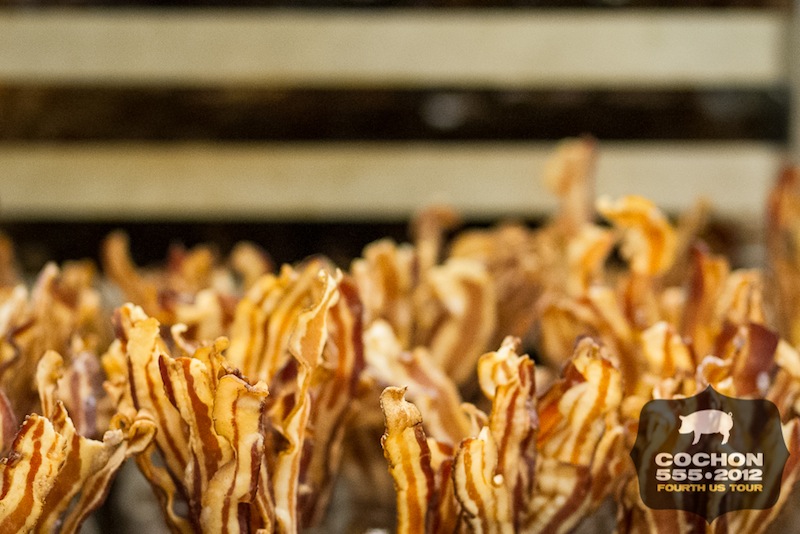 Cochon 555 (photo Galdones Photography)
Cochon 555, the traveling heritage pig cook-off, comes to Chicago for a dinner tonight at Sepia and a tasting event on Sunday at the Four Seasons. Cochon takes place in 10 cities across the U.S., and five chefs in each city receive 200-poundheritage breed pigs with which to make a menu that incorporates each part of the animal.
Tonight there's a dinner at Sepia, featuring food from chef Andrew Zimmerman and guest chefs Stephanie Izard, Rob Levitt, Patrick and Michael Sheerin, Jason Vincent, Craig Bell, and Cochon 555 founder Brady Lowe.
On Sunday, the main event features Kevin Hickey of Allium, Cosmo Goss of Publican Quality Meats, Matthias Merges of Yusho, Ryan Poli of Tavernita, and Josh Adams of June Restaurant, who will face off by cooking the pig and providing samples to the judges and attendees. To wash down all that pork, sip wines from Scholium Project, Elk Cove Vineyards, Ridge Vineyards, Buty Winery, and K Vintners, plus samples from Anchor Brewing, Crispin Ciders, Pig's Nose Scotch, and Illegal Mezcal. As if that's not enough to munch on, there's also a cheese bar, with samples from Cypress Grove Chevre, Vermont Butter & Cheese, Spring Brook Farm, Rogue Creamery, and Kerrygold. For the VIP hour, there's a cocktail competition in which six local bartenders face off with a bottle of Breckenridge Bourbon.
Sepia
123 North Jefferson Street, CHicago
(312) 441-1920
Website
Four Seasons
120 E Delaware Place, Chicago
(312) 280-8800
Website
Amy Cavanaugh writes about food, drink, and travel for publications in Chicago and elsewhere. She is also the weekend editor of Chicagoist.
Follow Amy Cavanaugh on Twitter: @AmyCavanaugh